Christchurch City Libraries lists literary prize winners and links to catalogue searches, but we may not hold copies of all titles mentioned.
The Anthony Awards were created in 1986 and are given at each annual Bouchercon World Mystery Convention Nominees and winners are selected by attendees. Awards are given for the best novel, first novel, paperback original, short story, and criticism/biography. Listed below are best novel winners and nominees.
The award is named for the late Anthony Boucher (William Anthony Parker White), well-known writer, critic, and fan of the mystery genre. Each convention committee designs its own award to present to the winners.
See more literary prize winners, including Genre prize winners.
2023
2022 
2021
2020
2019 
2018 
2017 
2016
2015
2014
2013
2012
2011
2010
2009
2008
2007
2006
2005
2004
2003
City of Bones Michael Connelly
2002
Mystic River Dennis Lehane
2001
A place of execution Val McDermid
2000
In a dry season by Peter Robinson
One time only categories celebrating the millennium
Best mystery novel of the century
Best series of the century
Best writer
1999
Blood work Michael Connelly
1998
No colder place S.J. Rozan
1997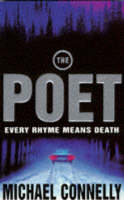 The Poet Michael Connelly
1996
Under the beetle's cellar Mary Willis Walker
1995
She walks these hills Sharyn McCrumb
1994
Wolf in the shadows Marcia Muller
1993
Bootlegger's daughter Margaret Maron
1992
The Last detective Peter Lovesey
1991
"G" is for gumshoe Sue Grafton
1990
The Siren's sang of murder by Sarah Caudwell
1989
The Silence of the lambs Thomas Harris
1988
Skinwalkers Tony Hillerman
1987
"C" is for corpse Sue Grafton
1986
"B" is for burglar Sue Grafton