Christchurch Speedway, more commonly known as Aranui Speedway, has a distinguished history, despite its short run of just 10 years.
Between 1949 and 1959, the track hosted 182 race meetings with crowds of up to 14,000 and launched the careers of three world title holders. The names of local speedway champions were as well known as today's Crusaders.
A speedway of champions
Perhaps Aranui Speedway's biggest legacy is that from the young motorbike racers at this one venue came three World Speedway Champions. Ronnie Moore who debuted at Aranui as a 15-year-old went on to win the World Championship title twice and Barry Briggs to win the title four times. Ivan Mauger began his competitive career at Aranui in 1955 and, by 1979, long after the Christchurch speedway had closed, had won the world title six times, an as yet unbeaten record. In 2000, he was chosen, after polls between 34 speedway magazines around the world as the speedway "Man of the Millennium" the top speedway rider of the 20th century. To have produced three world champions was an amazing record for one speedway.
Where was the speedway?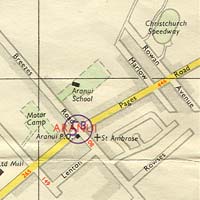 Aranui speedway was off Rowan Ave, roughly behind where the St James School is now.
The only proper speedway in Christchurch
After World War II, speedway motor-cycle track racing on bikes cut down to minimum weight was booming in the North Island. But Christchurch had not had a proper speedway track since 1938, when Monica Park Speedway in Woolston closed. A site at Aranui, still in sand-hills and broom and wild pine, was chosen by group of promoters, Christchurch Speedways Limited, led by Alec Pratt. Construction started in 1948. Earth moving machines were used to create a cinder track and an embankment.
The track later earned the reputation among overseas competitors for being one of the best in the world.
A big summer attraction
The Aranui Speedway was officially opened by Mayor E.H. Andrews on 29 January 1949 before a crowd of more than 10,000 people. In the late 1940s and early 1950s, speedway was one of Christchurch's biggest summer attractions and some residents adjoining the area (now Rowan Avenue) complained of the heavy traffic and noise on speedway nights. Public authorities urged people with cars to use alternate routes so that Pages Road could be left clear for trams and buses.
As well as holding races between North and South Island teams, the Aranui Speedway hosted the New Zealand Championships and overseas teams and racers. Other forms of racing were also introduced - bikes with sidecars, midget racers, ultra-midget cars (for children's races). Stock cars proved a popular attraction between 1954-56 but eventually had to be dropped because of the large expenses in maintaining the track and repairing the damage to trackside fences.
A combination of rising costs, declining patronage and increasing pressure from new housing in the Aranui area led to the closure of the Aranui Speedway in 1959.
Further information