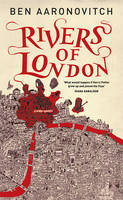 But I'm reading Fantasy novels and worse (despite my carefully nurtured prejudiced convictions) I'm really getting into some of it. How the heck did that happen? I mean, Lord of the Rings was a once read and never watched. I gave it a go though and never got round to reading Harry Potter and don't feel the need.
Enough! You get the drift I am not a fan, so how is it that the cover of Ben Aaronovitch's fantasy novel Rivers of London was constantly appearing either at the returns desk or on the shelves at different libraries and became a siren call? Great cover obviously, and the blurb on the back suggested humour and magic, contemporary and a mystery. So I gave in, read it and loved it.
Here's a taster of the start. PC Peter Grant a probationary constable, looking likely for a placement in the Case Progression Unit (shuffling paper, not real copper work) is guarding a murder scene on a cold London night. His fellow PC Lesley - supposedly guarding the other side of the square - has gone for coffees when a strange looking geezer sidles up to Peter whispering that he knows whodunnit. Something about him makes Peter pretty sure he's a ghost and when he vanishes at the sight of Lesley with the coffees he knows he's onto it.
The next night he's back in his own time, to see if there's any further signs of spooks. No ghost but he does meet his future boss, Inspector Nightingale the last Wizard in England. Don't be put off by the wizard bit, Aaronovitch makes the magic stuff seem perfectly normal and the upper Echelons of the Force use Nightingale and Peter when necessary but no-one's allowed to use the M.... word. Rivers is written with lovely satirical wit and great imagination. Highly recommended.
Jasper Fforde's Shades of Grey. We of the here and now are "those who went before" and the leadership's cunning plans including "great leaps backward" leaves this colourtocracy carless except for a Model A, severely short of spoons and with acronyms forbidden.
Again with humour, and a suitably bizarre idea of a future, post apocalyptic world is
But there's more rules of course and your status is defined by being able to see the higher end of a particular colour spectrum, purple denotes a higher social standing. Our hero Eddie Russett (sees red) has been banished to High Saffron due to a variety of misdemeanours. Depending on the results of his upcoming colour test though, he is destined to marry Violet.
But then he meets Jane, a Grey and with her smarts and attitude. It dawns on him that all is not as well as he thinks in a world he considers just and fair and has never questioned. A highly entertaining read. Ever since I read this I've been checking to see where the very slow to follow up Mr Fforde is with the sequel. He's left a whole lot of us waiting impatiently for a good follow up to an original that's got a nice tight plot, is cleverly satirical and laugh out loud. I may even read it again. In fact I know I will.