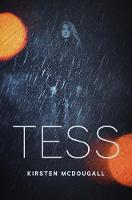 We are asking quick questions of writers and thinkers coming to the WORD Christchurch Festival 2018 (Wednesday 29 August to Sunday 2 September).
Kirsten McDougall has written a book of interconnected short stories, The Invisible Rider, and a novel Tess. She has published stories and non-fiction in Landfall, Sport, Turbine and Tell You What: Great New Zealand Non-fiction 2016. 
What are you looking forward to doing in Christchurch?
The literary whisky tasting at WORD Christchurch Festival and seeing what new street art has popped up since I was last there.    
What do you think about libraries?
They're one of the world's great inventions. They're a socialist idea that delivers and they create a scene without an economic imperative. In that sense – you might call libraries a kind of art form.
What would be your desert island book?
Share a surprising fact about yourself.
I have really good timing for someone who isn't a musician. I can pick up rhythms really easily and tap them out on my knees no problem. I wish this was a more recognised party trick than it is.
Kirsten McDougall's sessions at WORD Christchurch Festival 2018
The Body Issue Saturday 1 September 5.30pm