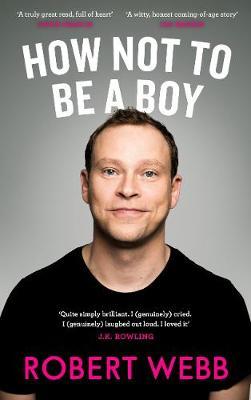 Diary this! On Tuesday 15 May 7.30pm, WORD Christchurch, in association with Auckland Writers Festival, presents Robert Webb in conversation with Kiwi comedian and writer Michele A'Court. Robert is a comedian, actor, and writer, appearing in such gems as Peep Show and Mitchell & Webb. He will be speaking about his new book How Not To Be a Boy
Find out more and buy your tickets. 
In his book, Robert looks back to his childhood, through to his university years where he met his friend and comic partner, David Mitchell (both performing for the famous Cambridge Footlights).  We are with him for his school days, and as he grapples with grief after the death of his mother.
Growing up, Webb found that society expected boys and men to love sport and play rough, drink beer, never to talk about their feelings, and never to cry. When Webb became a father, he began thinking about the expectations society has of boys and men - and how these expectations were often at best, absurd, and at worst, limiting and emotionally damaging.
Webb will discuss, among other subjects, how various relationships made him who he is as a man, the life lessons we learn as sons and daughters, and "the understanding that sometimes you aren't the Luke Skywalker of your life – you're actually Darth Vader."
We are stoked to announce that the host of our evening with @arobertwebb on 15 May is none other than the wonderful @MicheleACourt! Michele just happens to have her own new book out. This will be conversation not to be missed! More info here: https://t.co/NdLlSvO6bO pic.twitter.com/hP0H5nYhQ4

— WORDChristchurch (@WORDChCh) April 4, 2018
Middle and Later Stages of Receding Hair in Blond Comic Actors (become authors) Who Nevertheless Remain Very Sexy. pic.twitter.com/2foNuuWPQ0

— Robert Webb (@arobertwebb) April 19, 2018
More Webb