The Christchurch Normal School was one of the most significant of the city's Gothic-style buildings to be demolished following the earthquakes of 2010 and 2011. The school opened in April 1876. It was built to provide a 'normal' school environment, where teacher trainees could observe experienced teachers in a classroom situation. When this function was transferred to Elmwood School in 1954, the building became the training centre for the post-primary Department of the Christchurch Teachers' College. It was vacated when the college moved to llam in 1970. In the 1980s it was converted into Cranmer Court.
Architecture and location
The Normal School building was designed by Christchurch architect Samuel C. Farr. He won a design competition run by the Canterbury Board of Education. His entry was a revised Gothic design. The builder was Daniel Reese. William Brassington carved the stone details. The building occupied a commanding position on Cranmer Square, about five minutes' walk north-west from Cathedral Square. It gave a sense of scale and enclosure to the north-eastern corner of Cranmer Square, and created a satisfying visual balance with the former Christchurch Girls' High School on the opposite side.
Images of the Normal School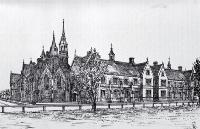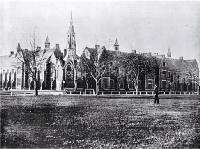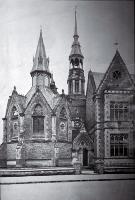 Cranmer Court
The building was vacant until 1981 when a developer bought it. The project was completed in 1985 and the building became a group of luxury apartments (Cranmer Court). The board room became a restaurant (Grimsby's).
Earthquake damage
The building suffered considerable damage in the earthquakes of 2010 and 2011. The body corporate representing owners arranged for temporary make safe work. In April 2012 the building was issued with a Section 38 notice by CERA, and in May 2012 the body corporate voted to have the building demolished.
Artist Mike Hewson used the damaged Cranmer Courts as a canvas for Homage To The Lost Spaces (Government Life Building Studio Series). A last minute offer to save the building was accepted, but this fell through and demolition began on 4 October 2012.
Source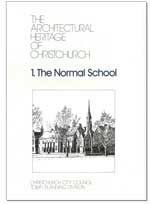 This page is based on information from The Architectural Heritage of Christchurch: The Normal School.
More about the Normal School / Cranmer Court