Our Community Read for 2016 is Heartland by Jenny Pattrick. In August 2016, Christchurch City Libraries invites you to read, share and discuss Heartland - and join with Jenny Pattrick for some fun events.
Book chat, tea and tales with bestselling author Jenny Pattrick - Thursday 18 August 10am to 11.30am at Te Hāpua: Halswell Centre
Book chat, tea and tales with Jenny Pattrick. Read Jenny's book Heartland.
Jenny Pattrick's Heartland brought to life by the Court Jesters - Friday 19 August 7pm to 9pm at Te Hāpua: Halswell Centre
Experience Jenny Pattrick's book Heartland brought to life by The Court Jesters.
Drinks and nibbles from 6.30pm.
Community Read: Storytime for songbirds with Jenny Pattrick  - Saturday 20 August 2pm to 3pm at Te Hāpua: Halswell Centre
Join Jenny for a special interactive, toe-tapping storytime featuring the enchanting The Very Important Godwit. Fly in with the whole family to enjoy a musical storytelling extravaganza!
Read Newsline's interview with Jenny Pattrick:
I've always written things, even as young thing. I was a jeweller for a large part of my life but when my hands began to give out I decided to give serious writing a go. At age 60 I went to a creative writing course with Bill Manhire, which I just loved, and it just all went from there. Not surprisingly, the jeweller's bench is now gathering dust!"
More about Heartland
A synopsis of Heartland:
After a short stint in prison on trumped-up charges, the loveable simpleton Donny Mac returns to the house left to him by his grandfather in the small settlement of Manawa, in the shadow of Mt Ruapehu. Now inhabited by a handful of colourful locals, the once prosperous milling town is only bustling in the ski season when the out-of-towners arrive. Awaiting Donny's return is the drunken and pregnant Nightshade, who claims he is the father. Donny's friends keep watch anxiously: the lace-making Bull Howie; Vera who can be seen every evening wheeling Bull's dinner in a pram down to his house in her own version of meals on wheels; farmer George Kingi and his fey four-year-old daughter Lovey; and the strange elderly sisters who have moved in next door. Also watching is the Virgin Tracey, a sixteen-year-old hiding out in one of the abandoned houses, with her own tiny baby. When an accident threatens to put Donny back into prison, he and the Virgin Tracey come up with a solution to cover it up. But can the secret remain hidden?
Community Read posters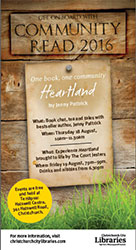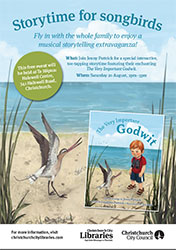 Community read poster [150KB PDF]
Community read poster [164KB PDF]
Community read poster - A very important godwit [550KB PDF]
Previous Community Reads