Our libraries have a range of resources to improve your craft skills and give you creative ideas. If you enjoy collecting, we have guidebooks, catalogues and online resources to help you identify and look after your collectibles, whether they be Star War figurines or Royal Albert china.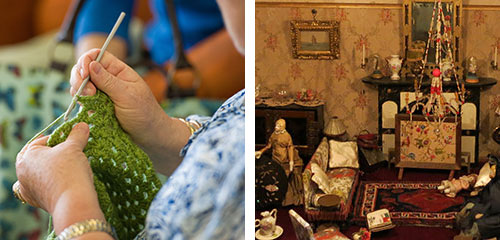 Browse the handicraft and the collectors and collecting categories in CINCH (Community INformation CHristchurch) for Christchurch craft and collecting groups and organisations
Our events page lists knitting and crafting sessions at our libraries.
Find craft resources in our collection
Check out our Knitting page.
Find craft resources with subject searches such as:
Find collecting resources by searching for subjects such as:
Magazines and catalogues
Find print craft magazines by searching for the name of the specific craft and the word periodicals e.g. pottery periodicals. Locate print collectors' magazines by searching for the name of the item collected and the words collectibles periodicals e.g. dolls collectibles periodicals. For catalogues, including price guides and handbooks, do a search for the item collected and the words collectibles catalogues, e.eg. porcelain collectibles catalogues.
eResources
World Book Activity Corner

Access to thousands of engaging projects suitable for a broad spectrum of hobbyists — from beginner to experienced, for children and adults.
Access to prices of antiquities, antiques, collectables, retro, vintage and 20th century design. An Australian product with New Zealand content.
Books and websites for art and craft fun.