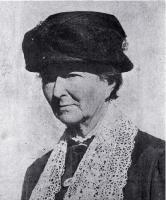 Amelia Frances Inwood - known as Frances - was born on 21 July 1849 in England. In 1851 the family emigrated to New Zealand on the Lady Nugent and eventually established themselves in New Brighton Road, Burwood, a then sparsely populated area. Frances' brother, Arthur farmed in an even more remote part of Burwood and Inwoods Road was named after him. After gaining an education Frances went on to run a very successful private school.
Frances married William Warrington Brent Trood Rogers in 1874 at Holy Trinity, Avonside. Within sixteen months he died and was buried at the same church.
While continuing to teach, Frances founded the Sunday School associated with All Saints, Burwood.
Childless herself but godmother and aunt to many, her substitute children remembered her as a small, alert, brisk woman who was straightlaced and pious and always wearing black.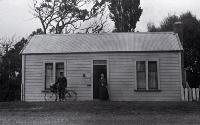 Mrs Inwood, Frances' mother, was postmistress at Burwood and when she died in 1891, Frances succeeded her and became postmistress and storekeeper. She lost her official position for a time and when she regained the job, she clung to it tenaciously.
Attempts were made to establish improved and more central postal facilities however Frances prevailed upon Rev C.A. Tobin to help gain support so she could keep her job.
Frances resigned in November 1928 because of failing health and on 12 December she died.
Source
Book Mark, Canterbury Public Library, June '93, article by R. Greenaway, pgs 4 and 5.