Anthony Frederick Wilding was an Olympic medal winning tennis player, who won 11 Grand Slam tennis titles. He was killed in action during the First World War.
Born: 31 October 1883 at Opawa, Christchurch
Died: 9 May 1915 at Neuve Chapelle, France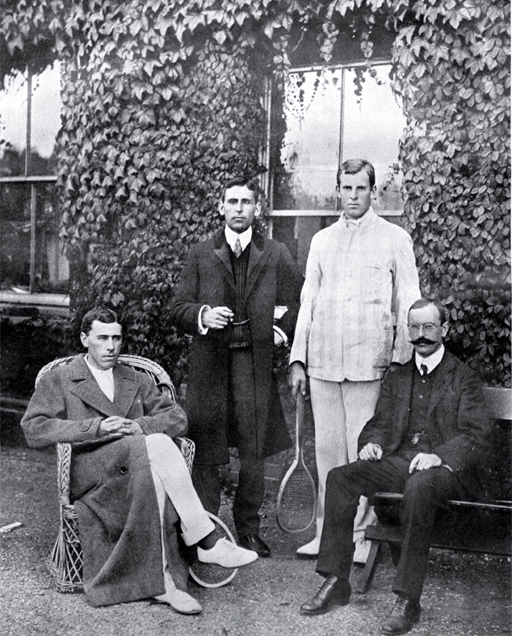 Life and early tennis career
Anthony Frederick Wilding's parents were Frederick Wilding, a barrister, and Julia Anthony. Both British, in 1879 they had emigrated to New Zealand, where Frederick opened a law practice in Christchurch. They had five children, including a daughter, Cora, and lived in a large house called 'Fownhope', which had grounds large enough to hold tennis courts, a swimming pool, a cricket wicket and a croquet green.
Frederick Wilding represented New Zealand in cricket, and was also very good at football, riding and rowing. Anthony grew up playing (and excelling) in sports such as swimming and cricket. When he left New Zealand to attend university at Cambridge, England, in 1902, he hoped to make his name as a cricketer. Once there, however, he began to play more tennis.
During the summer holidays of 1903, Wilding decided to play tennis on the tournament circuit with players who had enough of a private income to allow them to spend their time playing tennis.
Wilding decided to concentrate on tennis, working on his backhand and serve, rather than the law books he was supposed to be studying.
He still managed to pass his law exams, graduating BA in 1905, and returned to New Zealand to join his father's law practice. But after winning the New Zealand national tennis title in 1906, he returned to England again, and was admitted to the Bar at the Inner Temple.
In 1909 Wilding returned to New Zealand long enough to qualify as a barrister and solicitor in New Zealand, and also spend time riding motorcycles in trials and hill-climbing competitions. But by 1911 he was back in England.
Professional Career
Between trips back to New Zealand, Wilding played the European tennis circuit, travelling from one tournament to the next by motorcycle, and living off his tournament prize-money. He wrote a book describing this life called On the court and off, which was published in 1912.
In 1907 Wilding played for the first time in the Wimbledon tennis tournament in the doubles with Australian Norman Brookes as his partner. Brookes also won the men's singles title, the first non-British player to do so. Anthony had first played for the Australasian Davis Cup team in 1905, but in 1907 he partnered Brookes against a British team in 1907, and together they won the cup. For the next two years Wilding and Brookes kept the Davis Cup for Australasia, playing first in Melbourne, against an American challenge, and then in Sydney a year later. An Australasian team kept the cup against challenges in 1908, 1909, and 1911, losing it in 1912 to Britain. Wilding did not play in the 1911 matches, which were played in Hagley Park in Christchurch, nor in the 1912 loss, but played in 1914 with Brookes to win back the cup.
Wilding developed a rigorous training regime, which was unusual for the times, and included long walks, skipping and punch ball workouts. At the same time he was working on the weaknesses of his game, his backhand and a tendency to lob the ball.
Wilding won the men's singles title at Wimbledon for the first time in 1910. He defended it the following year, and went on to hold the title of men's champion until he was beaten by Norman Brookes in July, 1914. Anthony also represented New Zealand in the Stockholm Olympics of 1912, winning a bronze medal.
He paired with Brookes again to win the Davis Cup from America soon after, but the outbreak of the First World War ended any chance he may have had of winning Wimbledon again. Wilding enlisted in the British Army as a captain in the Royal Marines, and was in charge of an armoured car group. He designed a two-wheeled trailer with a gun set up on it, which could be towed behind an armoured car.
He was killed in a bombardment that took place near Neuve Chapelle in Belgium, on 9 May 1915.
Summary
Anthony Wilding won a total of eight Wimbledon titles (four singles, and four doubles). He also won a number of tennis championships around the world, including tournaments in Christchurch, Melbourne, Paris and Johannesburg, as well as his bronze medal result at the 1912 Stockholm Olympics. The highlight of his tennis career was the successful defence of his Wimbledon title in 1913 against the highly favoured American Maurice McLoughlin, in front of 7000 spectators.
Unusually for the times, Wilding did not smoke or drink alcohol, and followed a strict training programme to keep up his level of fitness. He was not regarded as a naturally brilliant player (compared to Norman Brookes for example) but succeeded because he worked hard on improving his game, and was more consistent in his play and fitter than other players. He was a well-known figure on the British and European tennis circuits, playing his "manly brand of tennis", and with his blond good looks, has been described as "tennis' first matinee idol".
Wilding was also passionate about motorcycles and cars, spending long periods touring different countries on motorcycle, and when war broke out, chose to join an armoured car division. He wrote home that: "This is a motor war. Horses are more or less useless."
After the First World War the Canterbury Lawn Tennis Association bought land in Woodham Road for tennis courts and named their new centre for Canterbury tennis Wilding Park.
Cora Wilding became well-known in her own right as an artist, and as the founder of the Sunlight League of New Zealand, which set up health camps for children, and the Youth Hostel Association of New Zealand.
Sources and more information