Location: 384 Barbadoes Street (between Bealey Avenue and Kilmore Street), Christchurch 8013
Brief History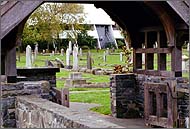 The Barbadoes Street Cemetery is Christchurch's oldest cemetery, with the first recorded burial in 1851, and is the final resting place of many of its early leading citizens. It is divided by Barbadoes Street, separating the Anglican (Church of England) section on the eastern side, from the Roman Catholic and Dissenters (others) on the western side.
The history of the cemetery is the history of early Christchurch. The stories of its beginnings and the people buried there paint a rich and varied panorama of life lived in 19th century Christchurch and on into the 20th century.
The Barbadoes Street Cemetery Preservation Society was active in this cemetery for many years undertaking headstone restoration work. Unfortunately there was considerable damage to headstones during the earthquakes of 2011 and 2012.
A roofed structure known as a lych-gate was erected at the Cambridge Terrace entrance to the cemetery in the 1990s. Lych-gate is a term adopted in Victorian times and derived from the Old English 'lich' meaning corpse.
A granite plaque adjacent to the lych-gate is engraved with a map of the cemetery and information on some of the people buried there.
Cemetery Plot maps
This map is taken from the tombstone transcripts book created by the New Zealand Society of Genealogists in 1982. This shows where tombstones are located in the Anglican, Catholic and Non-conformist sections of the cemetery. Maps of the Anglican section are held on Tuakiri | Identity, Level 2, Tūranga. Note that the areas and rows are not the same as the plot and block numbers given in the Christchurch City Council Cemeteries Database.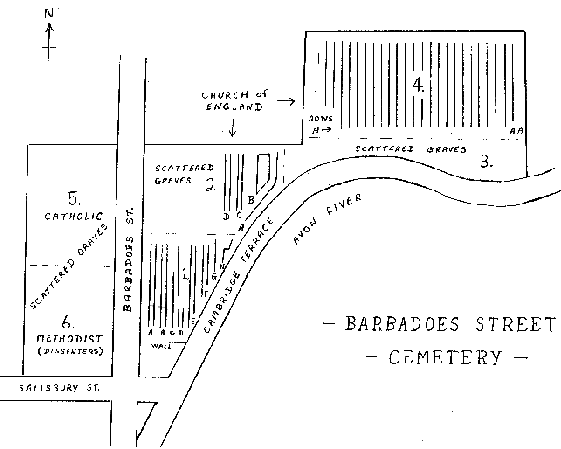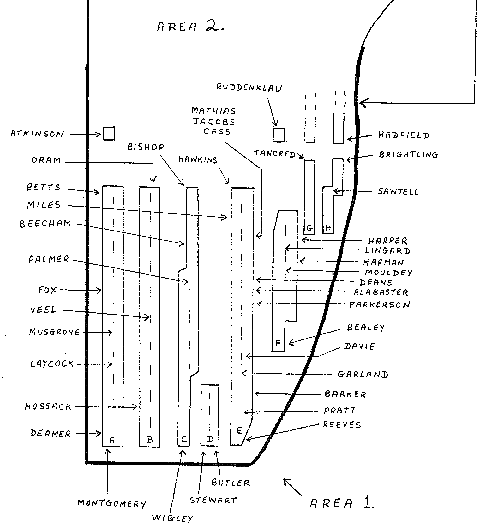 Notes
A small number of interments are listed in the Christchurch City Council Cemeteries Database.
There are complete records of the Anglican burials in the church register transcripts (code BSC); the microfilms created by the Mormon Church; and the original records in our Archives collection. The Cemeteries Database has Anglican burials but addresses have been omitted.
In the church registers there are Non-conformist (non-Anglican Protestant) burials, with the code BSCNC, 1872-1905. The original records, at the Methodist Archives, are based on butts not full records.
Catholic Archives, Christchurch, has no Barbadoes Street burial records. Information is contained on the surviving gravestones and in the Barbadoes Street Cemetery tombstone transcript.
The tombstone transcript book includes details of those who were buried in all parts of the cemetery as long as a tombstone was existing in 1982. Included in the transcript are details of people whose details were copied out in two earlier sorties into the graveyard but who no longer had a memorial in 1982.
The Barbadoes Street Cemetery transcript of Non-conformist and Roman Catholic burial, 1917-1935, is among the church register books. This volume, Non-conformist and Roman Catholic burials from World War I to 1935, gives information on burials which took place after the city council took over that part of the cemetery to the west of Barbadoes Street.
Related