What books, movies, and music have you loved this year? Each year, we bring together the cream of the crop of 2019 – from the picks of our staff and customers, to Best of the year lists published by magazines, newspapers and booksellers. Have your say!

Staff picks
Here are the books, movies, TV, music, and podcasts that librarians loved in 2019:
Young Adults
Younger and Older Children's Fiction
Picture Books
Adult Fiction
Adult Non-Fiction – New Zealand
With the end of the year quickly approaching, we've been looking back at what we read this year. From new releases to books of years past, here are some of the stand-out Young Adult reads for library staff in 2019.
List created by ChristchurchLib
Our fiction-loving librarians on Auahatanga | Level 4 | Tūranga have made their selection, and these are their choices for best fiction for 2019, and you're sure to find just the right thing for your summertime reading! A Christchurch City Libraries list.
Brian
List created by ChristchurchCat
Caitlin
List created by SmallSnapper
This year I found myself pulled towards luminous, feminist, wandering novels, with a strong sense of place. So far, I have completed 105 books with the aim of reading mostly authors who are women, nature centered or translated fiction. Below is a list of the best books, comics, documentaries and music I have had had the pleasure of encountering this year.
Cornelia
This is not an atlas in the traditional sense but full of striking maps and beautifully visualized statistics that tell a story where we come from and where we are at now. I could spend hours just browsing this book. Mark my words this will be a contender for the best NZ non-fiction book prize in 2020.
Dan
List created by DevilStateDan
A personal top-5 adult fiction titles for 2019.
List created by DevilStateDan
A highlights package for 2019 featuring the best of Film and Television, all drawn from the collections of Christchurch City Libraries.
Donna
List created by Donna_R
My favourite fiction and non-fiction of 2019.
List created by Donna_R
Fave movies and tv series borrowed from the library collection.
Fee
What a great year for fiction! Some of the best of my reads this year. Many of these have won or been nominated for awards in 2019.
List created by fionajay
Something old, something new, great graphics with great stories, bathos and pathos. These are some of the best discoveries I've made this year in the world of Graphic Novels.
Helen
List created by Helenccl
Helen's picks of 2019, a mix of bonnets, equestrians, shiny new fiction, and depressing stuff about immortality
Hong
List created by hongwangccl
Among the books I read this year, the following ten are most entertaining and captivating.
From an observer's perspective, the author tells a story of a young nurse's serial killing sister. This book is classified as mystery but I find that narratives on emotional struggle, the family relationship and ethical dilemma are fascinating. Chapters are short and easy-to-read.

Jesse
List created by jessebraydon
2019 has been a stellar year for film, tv, music, books and podcasts. In this list I've included just some of the best books, films and tv Christchurch City Libraries has on offer. Some old, some new, the only thing that matters, is they are my personal favourites of 2019!
The Institute is the latest novel by Stephen King and one that hits close too home for many. In suburban Minneapolis, intruders silently murder twelve-year-old Luke Ellis's parents and kidnap him. He wakes up in a room identical to his own at The Institute, a facility located deep in the woods of (you guessed it) Maine. At The Institute are other kidnapped kids with special talents—telekinesis and telepathy—who live in rooms of their own.

Kamala
List created by Raindancer
Raindrops on roses and movies on big screens, Dark funny novels and well researched podcasts. Tv series that you can binge and binge, these are few of my favourite things.
Katherine
List created by katccl
Some books I've enjoyed and learnt from this year!
Lynne
The first is a travel book, but not a conventional travel book. The author seeks out the locations of the old time-telling bells of Tokyo, and the stories and history surrounding them. Unusually poetic rather than descriptive.
The second two books are fiction, but about a somewhat neglected part of English history, the reign of Aethelred the Unready and the Vikings who became English kings. If you're tired of the Tudors by now, this is a welcome antidote.
Moata
List created by MomoT
My favourite books, fiction and non-fiction, from twenty-nineteen.
Monique
List created by macayless
These are my best picks of 2019!
Rachael
List created by Rachaelistic
I'm Rachael Ch from Upper Riccarton Library, and these are my top picks of the books I've read this year.
I reread my school copy of The Handmaid's tale before I read this sequel, which I recommend doing. The story is divided between three women and set over fifteen years after the events of The Handmaid's tale. I admit that the first book was superior, but this was certainly a satisfying read.

What a delicious book! Dark, scary and poses the question: how far would you go to protect a loved one?

Renee
List created by Reneeccl
My favourite books of the year. It's been a big year of fantasy reading for me this year (I'm normally a dedicated who-dunnit reader), so they take up a good chunk of my favourite reads this year. There's still a small smattering of mystery and other genres, and I've enjoyed each of these immensely.
Stacey
I have been obsessed with listening to this Podcast since finding out about it earlier in the year. It's a combination of true crimes stories and comedy, told by Karen Kilgraiff and Georgia Hardstark. Each episode the hosts discuss a famous murder story in a way that is not too heavy on the heart, but factual enough for the listener to learn about crimes in history. The great thing about the podcast is that the hosts recommend the listeners books to compliment their stories, so you can continue your obsession!
Stella
List created by shadynz
Some of the titles I have enjoyed this year
Vicki
These are books I have read or listened to...or both...and enjoyed. I will often have the actual book or eBook & the audiobook on the go at the same time so I can continue to read to & from work & when out & about.
List created by vix1
Customer picks
Brenda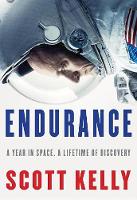 Endurance: A year in space, a lifetime of discovery Scott Kelly
This year marks the 50th anniversary of Neil Armstrong stepping on the moon. Inspired by this achievement, American Scott Kelly and his identical twin Mark train as fighter pilots then as astronauts. As children of the 60s (hey bloomer!), Man on the Moon brought kudos to science and engineering. Now the international space station is hurling in orbit, visible on most nights, and occupied continuously for over 20 years. Although America won the Moon Race, it is Russia who won and continue to dominate space. Scott and Misha, his Russian counterpart, spend a year in space - a formidable undertaking for which both are to be respected. Scott brings his day to day world on the ISS both in this book and in short videos. Apart from his extraordinary education, what shines through is how we take for granted the feel of fresh air in our lungs, water on our skin, the company of loved ones and the sacrifices we make for the greater good.
2019 best book lists
New Zealand
International
See also