What books, movies, and music have you loved this year? Each year, we bring together the cream of the crop of 2019 – from the picks of our staff and customers, to Best of the year lists published by magazines, newspapers and booksellers. Have your say!

Staff picks
Here are the books, movies, TV, music, and podcasts that librarians loved in 2019:
Young Adults
Younger and Older Children's Fiction
Picture Books
Adult Fiction
Adult Non-Fiction – New Zealand
With the end of the year quickly approaching, we've been looking back at what we read this year. From new releases to books of years past, here are some of the stand-out Young Adult reads for library staff in 2019.
List created by ChristchurchLib
Our fiction-loving librarians on Auahatanga | Level 4 | Tūranga have made their selection, and these are their choices for best fiction for 2019, and you're sure to find just the right thing for your summertime reading! A Christchurch City Libraries list.
Dan's pick: A literary folk-horror thriller, an intriguing alternate history, and a marvel of storytelling gathering momentum at a rapid speed as the pages fly by. What if early in our region's European history, a mountain was discovered in the Southern Ocean that dwarfs Everest in every way, and it's elemental presence has been felt by a select few? McGahan was one of Australia's most gifted and inventive authors and sadly, he died from cancer in early 2019. Released posthumously, this is his 11th and final contribution to the world of literature and is truly a masterpiece of fiction.

Pru's pick: A fast paced, gripping work of speculative fiction, presented as a series of government reports and emails. Offers a realistic (and alarming) glimpse at the devastating series of events which could transpire should relations between the United States of America and North Korea break down completely. If you're interested in modern politics, and thinking about 'what-if' scenarios, you'll probably find this a difficult one to put down.

Cait's pick: A darkly humorous one-of-a-kind novel which tells the story of Korede, a Nigerian nurse whose dream of a simple life keeps getting interrupted by her sister's annoying tendency to murder her boyfriends. Korede always helps her sister clean up, but things get complicated when Ayoola starts to date Korede's co-worker and secret love interest. Braithwaite does an amazing job of mixing thriller and satire, and the result is a compelling and somehow realistic take on modern relationships, social media and family obligations.

Rob's pick: This beautifully drawn and engagingly written graphic novel by New Zealand comic book artist Ross Murray tells a story of acute social anxiety and the impacts it has on one person's life. It made me think about the fact that so many people we meet in our everyday lives, who appear on the surface to be happy and content, may in fact be concealing self-destructive internal monologues that must be very hard to live with. Graphic novels seem particularly well suited to communicating feelings like this in ways that make it possible to empathise, and this book does a brilliant job of demonstrating that.

Brian
List created by ChristchurchCat
Noah is only days away from his first trip back to Nice since he was a child when a social worker calls looking for a temporary home for Michael, his eleven-year-old great-nephew. Though he has never met the boy, he gets talked into taking him along to France. This odd couple, suffering from jet lag and culture shock, argue about everything from steak hach to screen time, and the trip is looking like a disaster

Kids can be so cruel. They'll call you names. Hurt your feelings. Push you to your death. In the garden of an abandoned house, Luke Connolly lies broken, dead. The night before, he and his friends partied inside. Nobody fought, everybody else went home safely

A powerful, unsettling portrait of ordinary family life in Cuba, and masterful portrayal of a society in free fall, it offers a poignant reflection on contemporary Cuba and the clash of the ardent idealism of the old guard with the jaded pragmatism of the young

Jakob Beer is seven years old when he is rescued from the muddy ruins of a buried village in Nazi-occupied Poland. Of his family, he is the only one who has survived. Under the guidance of the Greek geologist Athos, Jakob must steel himself to excavate the horrors of his own history

Caitlin
List created by SmallSnapper
This year I found myself pulled towards luminous, feminist, wandering novels, with a strong sense of place. So far, I have completed 105 books with the aim of reading mostly authors who are women, nature centered or translated fiction. Below is a list of the best books, comics, documentaries and music I have had had the pleasure of encountering this year.
This book is an ecstatic read; quirky, crafty, thick with snow and pollen. 'Drive the Plow over the Bones of your Dead' is a dark feminist comedy, a plea for the animals and to remember that old women are people too. Set in a bleak, empty Polish village, where a string of strange murders has left the small community frozen with concern. The best crafting of characters and their friendships I have read in a long time. This book was an absolute joy to read.

'The Valley at the Center of the World' is a winter read. It is quiet, weathered and comforting. Set in a valley in Shetland, we follow the people who live within it, and realize how important sustaining relationships in such a wild and isolated place is. This book makes you think about how a home is made and remembered. It is a beautiful insight into the many lives of the people in the valley and a quiet yet powerful study of the authors homeland.

Succinct, sonic, blunt.

Spell of the sensuous explores how bodies, languages, cultures and individual persons (and things) all come to understand the world around them. This book is insightful because Abram explores the many sensuous and porous ways of understanding the landscape, through an examination of self, stories, philosophies, individuals and cultural stories. I have learnt so much from this book.

Cornelia
This is not an atlas in the traditional sense but full of striking maps and beautifully visualized statistics that tell a story where we come from and where we are at now. I could spend hours just browsing this book. Mark my words this will be a contender for the best NZ non-fiction book prize in 2020.
Dan
List created by DevilStateDan
A personal top-5 adult fiction titles for 2019.
Life in 1700's Stockholm was unpleasant to say the least. Amidst all of the debauchery, drunkenness, and violence life is cheap, and that is the world that our early detectives work within to solve the grisly case of a mutilated corpse washed up from the river. We traverse the tiers of society, the lifestyles of the desperate, and a criminal madness that has been born of this environment. Absolutely stunning descriptive writing that leaves nothing behind.

A sweeping saga told across-times and lives intersecting, beginning with a young woman and her closed-in upbringing with her over affectionate father. Through her imagination and limited perceived understanding of the world, we travel through history to journey with Pericles and his troubled life story, a woman who comes back from the dead to assume a spiritual role in a small society, to betrayals, intrigue, adventure, and tragedy, and the acceptance of a simple life of peace. Great writing from an award winning Contemporary Literary Fiction author.

An outstanding new thriller for fans of Kathy Reichs and Thomas Harris. Dark and sinister with excellent character development, this story will keep you turning pages and shuddering in suspense well into the small hours. There's a killer on the loose and they're copying the killings by a convicted serial killer from 20 years ago, and the victims appear to be young boys around the age of 10. The interweaving narratives between the killer and our other characters provides excellent depth and buy-in and sets you on a course for a truly creepy thriller.

In the very-scarily-too-near future, entire nations are lost to ice melt and subsequent rising sea levels. It is now a world of privatised essential services, monopoly control of resources, and the monetisation and dehumanisation governments will force upon their citizens in the name of shareholder interests. The story is told through transcripts from a court case and the internal accounts of two young people, virtual strangers coming together surrounded by chaos. An important book for our times.

Outstanding character depth and brilliantly vivid action scenes, the king of grimdark fantasy keeps on delivering. This new book, set 30 years or so after the events of 'Last Argument of Kings', sees us back in the middle of the tension between North and South and reunited with old favourite characters and introduced to new faces who are just as memorable of the old guard. It's a slow burn as we build towards the action, getting to know those involved, then hits full force with battle action, siege tactics, brutality and the unfairness of life for rich and poor.

List created by DevilStateDan
A highlights package for 2019 featuring the best of Film and Television, all drawn from the collections of Christchurch City Libraries.
A new take on the second Roman invasion of Britain. It's a psychedelic trip through ancient history that is a fun ride to behold. Pretty decent cast led by David Morrissey and all doing a good job, and if you take this series in the light hearted spirit in which in it's intended and not a historically-accurate account, then you'll be in for a treat. The star of the show is no doubt the exiled druid played by Nikolaj Lie Kaas, his performance is first class, and extremely funny at times.

This franchise just keeps on delivering against the odds! Another action packed journey for the team here, seeking answers and exacting some form of revenge against their traditional foes. Multiple agencies at play and some agents are not what they seem. Some thrilling chase scenes through the streets of Paris and a men's room fight scene that should go down as a classic - and of course there's plenty of running-Tom!

Donna
List created by Donna_R
My favourite fiction and non-fiction of 2019.
This was a scorchingly good read. I love a music oral history, and this one covers so many angles on the Joy Division story. It isn't all dark gothy bleakness thank goodness, there's psychogeography - and dry humour.

You'd know by her songs that Tracey Thorn can write, but by heck she can write. This look back at her teenage life is a wander round her past, and it will resonate with anyone who was a suburban teen wondering where to go next and who to be.

Advanced Style was a joy, and this is joy - doubled.

I love graphic novel memoirs - this one is one of the best ever. A beautiful journey into history & family.

List created by Donna_R
Fave movies and tv series borrowed from the library collection.
Grave of the Fireflies is not one of the usual Ghibli quirky, world-building types. It is set in the war, as Japan is bombed and people starve. It's probably the saddest movie I've ever seen. The love and affection between brother and sister Seita and Setsuko is so immensely powerful I am in tears recalling it.

A good messy insight into the genius that is The OG Viv (hat tip to British RuPaul Drag Race contender The Viv).

Fee
What a great year for fiction! Some of the best of my reads this year. Many of these have won or been nominated for awards in 2019.
"Time wounds all heals." The unput-downable sequel to The Handmaid's Tale.

Another awesome novel about the power of the mind against the power of the government. From the master.

Beautifully poignant, liltingly written first novel, winner of this year's Dublin Literary Award.

Great fun - sci-fi about the race to be the first woman in space. Set during an alternate 1950s after a meteorite has struck the Earth; making space colonisation imperative. Winner of this year's Nebula Award.

List created by fionajay
Something old, something new, great graphics with great stories, bathos and pathos. These are some of the best discoveries I've made this year in the world of Graphic Novels.
A triumph in red and black, this is a wonderful rendering of Margaret Atwood's award winning story. Nominated for the Goodreads Choice Awards 2019.

So good its hard to get your hands on right now. Really amazing graphics from Constantine and Wonder Woman illustrator Brian Azzarello.

A close second in the graphics stakes - this beautiful retelling of Harper Lee's adored classic tale is rendered in watercolour. Stunning.

Tough competition but this is hands-down the most richly beautiful Graphic Novel in the list. It's one of the 1001 Nights fables and a great story. Love to see Rushdie made into one!

Helen
List created by Helenccl
Helen's picks of 2019, a mix of bonnets, equestrians, shiny new fiction, and depressing stuff about immortality
Best fiction pick: Zadie Smith's latest collection of short stories features a stunning array of narratives and literary styles. From the story of Michael Jackson driving Liz Taylor and Marlon Brando from New York City, to God deciding to step away from his creation, to a country where 'immoral' citizens are executed by their president , Zadie keeps you hooked with her usual style, wit and insight.

Best Who Dunnit: A reunion between old friends at an isolated lodge in the Scottish wilderness, takes a terrible turn when the snow descends, and a murder takes place. An atmospheric thriller Agatha Christie style but with a modern day twist, Foley will keep you hooked until the heart stopping end.

Best classic: Packed with my favourite things- bonnets, Jewish heritage, beautiful prose, magnificent characters, dashing hero, Elliott's classic novel tells the story of Daniel Deronda, and his relationships with two women, the beautiful but spoilt Gwendolen Harleth, and Mirah Lapidoth, a young Jewish woman he rescues from suicide. An epic novel encompassing a variety of stories, places, and times, Daniel Deronda is a fascinating and rewarding read.

Best Non Fiction pick: Surgeon Atul Gawande, takes a highly original and often heart breaking look at illness and immortality, asking the questions: what makes life worth living towards the end? And should we rethink our ways of handling death? Gawande looks to his own experiences as a son as well as a clinician, navigating the most difficult of conversations and decisions. While I often found this book almost too devastating to read, it is undoubtedly a must read, an important examination of how to die, and how technology and trends impact on the choices we make today.

Hong
List created by hongwangccl
Among the books I read this year, the following ten are most entertaining and captivating.
This is an incredible love story happening in Auschwitz Concentration Camp during the second World War. Although there is an argument on the authenticity and accuracy of some events in the novel, the story themed with love and survival is awe-inspiring.

From an observer's perspective, the author tells a story of a young nurse's serial killing sister. This book is classified as mystery but I find that narratives on emotional struggle, the family relationship and ethical dilemma are fascinating. Chapters are short and easy-to-read.

A true story based on intensive research narrates Virginia Hall's transnational life experience and her enormous contribution to the Allies through acting as a Special Operational Executive and leading the Diane Irregulars in France during the Second World War. The breathtaking biography presents a handicapped woman with resilience, courage and charisma in the hard time.

The heart-breaking novel weaves together two story lines of the life of a "comfort woman" in a Japanese military brothel during the second World War and her grandson's adventure to find the truth in the contemporary world. The devastating narrative gives us an insight into humanity - how women suffer from war and are silenced by culture.

Jesse
List created by jessebraydon
2019 has been a stellar year for film, tv, music, books and podcasts. In this list I've included just some of the best books, films and tv Christchurch City Libraries has on offer. Some old, some new, the only thing that matters, is they are my personal favourites of 2019!
The Institute is the latest novel by Stephen King and one that hits close too home for many. In suburban Minneapolis, intruders silently murder twelve-year-old Luke Ellis's parents and kidnap him. He wakes up in a room identical to his own at The Institute, a facility located deep in the woods of (you guessed it) Maine. At The Institute are other kidnapped kids with special talents—telekinesis and telepathy—who live in rooms of their own.

This wouldn't be a true list of mine without a book by Murakami. Murakami's roughly 750 page novel is about a thirty-something portrait painter in Tokyo who is abandoned by his wife and finds himself holed up in the mountain home of a famous artist, Tomohiko Amada. It's full of mysterious circumstances, metaphors, and in true Murakami style lonely Japanese men eating cucumber sandwiches and reminiscing about life.

Based on years of immersive reporting, and told with astonishing frankness and immediacy, Three Women is a groundbreaking portrait of erotic longing in today's America, exposing the fragility, complexity, and inequality of female desire with unprecedented depth and emotional power. It is both a feat of journalism and a triumph of storytelling, brimming with nuance and empathy, that introduces us to three unforgettable women—and one remarkable writer—whose experiences remind us that we are not alone.

Eleanor Oliphant spends her days going to her mundane office job and drinking two bottles of vodka every Friday night and passing out on the couch. She struggles with appropriate social skills and tends to say exactly what she's thinking. Nothing is missing in her carefully timetabled life of avoiding unnecessary human contact, where weekends are full with frozen pizza and phone calls to Mummy. But her mundane office job and phone calls to mummy means she's completely fine.....unless she's not. This book makes you laugh, makes you cry and it's downright confronting. This one is a must read.

Kamala
List created by Raindancer
Raindrops on roses and movies on big screens, Dark funny novels and well researched podcasts. Tv series that you can binge and binge, these are few of my favourite things.
My top pick for 2019 is the story of the wild and free spirited Kya. Kya lives an isolated existence in the marsh land of the North Carolina coast. She becomes so intertwined with her environment that the environment becomes both her solace and her education. As a nature enthusiast I love the detailed descriptions of the flora and fauna of the salt marshes. A reflection of the author's (Delia Owens) background as a wildlife scientist. The novel has elements of mystery (the story begins with the discovery of a body in the Marsh lands) romance and even a courtroom thriller interlude. It is a beautiful yet haunting story that completely captivated me.

Naomi Woods' The Hiding Game describes the beginnings of the Bauhaus Art Movement in Germany. It is a gripping tale set around a group of student artists and the impact the rise of Nazism has on this art movement. I loved this as I was aware of the Bauhaus style but didn't know about it's origins.

A great summer read with a mix of politics and intrigue set in Tasmania. A page turner with a twist.

My top pick for the holiday season is this page turning thriller. An English couple go on honeymoon to Bora Bora and while out scuba diving they find a bag full of money (& diamonds). As they plot to keep their windfall secret, complications and mistrust weave their way into the relationship.

Katherine
List created by katccl
Some books I've enjoyed and learnt from this year!
What are the risks of not understanding the work that government agencies do? This fascinating book looks at the risks of ignoring important scientific - and other - research. Also available in other formats.

The Erebus is a ship with an amazing story - exploring Antarctic waters and trying to find the Northwest Passage. Michael Palin brings her adventures to life in his own inimitable way. Also available in other formats.

Find out about how a wide range of health providers managed after the earthquakes. A book full of inspiring, moving and very practical stories.

I've been enjoying reading Jason's comics this year - but I think this was my favourite. This is Jason's own story of his journey on the Camino, full of travel, personal growth and concern about fitting into a group.

Lynne
The first is a travel book, but not a conventional travel book. The author seeks out the locations of the old time-telling bells of Tokyo, and the stories and history surrounding them. Unusually poetic rather than descriptive.
The second two books are fiction, but about a somewhat neglected part of English history, the reign of Aethelred the Unready and the Vikings who became English kings. If you're tired of the Tudors by now, this is a welcome antidote.
Moata
List created by MomoT
My favourite books, fiction and non-fiction, from twenty-nineteen.
For me, this book really cemented the idea of New Zealand as part of Polynesia and gave me a greater understanding of just how vast Te Moana-nui-a-Kiwa (the Pacific) is. A great read for anyone who wants to explore the history of Pacific navigation, and the history of Polynesian people.

Statistics can reveal a lot but only if you mould them into a shape that makes sense. There's a lot of sense-making in this visually stunning exploration of who and what we are as New Zealanders - our geography, priorities, obsessions and more. A book to pore and marvel over.

In 2017 British comedian James Acaster isn't in great shape and develops an obsessive hobby - documenting the music of 2016. Acaster succeeds in making music you've never heard sound fascinating, while musing on the context and process by which different musicians create and he deftly alternates between these stories and dramas of his own life that mirror them. A must read purely for the part where he describes appearing on Conan O'Brien's late night talk show... while in the grip of food poisoning. You'll laugh, you'll cringe (mostly the second one).

This book is all about saving money while living well. As with most books of this kind, not all money-saving tips will suit every household but there's enough good advice here to inspire a financial makeover (if that's what you need).

Monique
List created by macayless
These are my best picks of 2019!
A book of short stories that make you question everything!

Possibly my most awaited series of all time, the release of this book made my year.

This book is twisted and creepy and oh so wonderful!

A devastating space fungus threatens to destroy the world and the only people who can stop it are a loveable hoodlum who talks too much, the girl he's crushing on, hard, and a 'retired' special agent. It was just the right amount of weird, creepy, scientific and hilarious and written by the guy who wrote the screenplays for Jurassic Park and Mission Impossible.

Rachael
List created by Rachaelistic
I'm Rachael Ch from Upper Riccarton Library, and these are my top picks of the books I've read this year.
I reread my school copy of The Handmaid's tale before I read this sequel, which I recommend doing. The story is divided between three women and set over fifteen years after the events of The Handmaid's tale. I admit that the first book was superior, but this was certainly a satisfying read.

What a delicious book! Dark, scary and poses the question: how far would you go to protect a loved one?

This is one of those nonfiction books which you can't believe are true. The secrets behind Theranos, a "unicorn" start-up company entirely based on lies.

Werewolves in India? This is a beautiful book spanning centuries and exploring gender roles, love and what it means to be human.

Renee
List created by Reneeccl
My favourite books of the year. It's been a big year of fantasy reading for me this year (I'm normally a dedicated who-dunnit reader), so they take up a good chunk of my favourite reads this year. There's still a small smattering of mystery and other genres, and I've enjoyed each of these immensely.
In a world where books are met with fear and stigma, Emmett Farmer is torn from his father's farm to become a binder's apprentice. Only this is not normal book binding; here people have their memories and secrets bound into books, to be stored away forever or sold by unscrupulous binders. All goes relatively smoothly until Emmett meets Lucian Darnay, a young aristocrat who comes to Emmett's teacher for a binding, and then discovers a book in his teacher's storehouse with his own name on it. A fantastic piece of romantic historical-fantasy that pulls you into it.

An amazing piece of gothic mystery! Superbly written, well fleshed-out characters, and a suspense driven plot with a compelling mystery, Wakenhyrst is a page-turner and a treat for fans of historical gothic mysteries. Young Maud's lives in a manor house on the edge of the wild, mysterious Fens in Edwardian Suffolk. Motherless, and stifled by her repressive, controlling father, their lives take a dark turn when her father discovers a medieval painted devil in the church's graveyard. Are the ominous events that follow part of her father's obsessive delusion, or is there really a devil, recently freed, stalking them from the Fens?

I absolutely loved this book! It was nominated for a Nebula Book Award and the 2019 Locus Award winner, for Science Fiction, Fantasy, and Horror, and for good reason. An interesting and captivating tale very loosely inspired by the fairytale Rumplestiltskin, this one had me at the go. The story unfolds beautifully, and has enough twists, turns, and magic to keep you guessing. The characters are amazing and diverse, from fire-demons, poor villagers, Jewish moneylenders, and white-walker-like Staryk, who are winter personified. A great read for fans of gentle fantasy and fairytale retellings.

Another one from Naomi Novik, this one was the 2016 Nebula winner. I was so impressed by Spinning Silver, that I dived into this one a few months later. Agnieszka loves her village in the valley, though they have a Dragon who takes a girl for tribute. The catch: he isn't a real dragon, but an immortal wizard. The story takes so many different turns, and unfolds beautifully with a gripping plot, and stunning characters. One of my absolute favourites from this year.

Stacey
I have been obsessed with listening to this Podcast since finding out about it earlier in the year. It's a combination of true crimes stories and comedy, told by Karen Kilgraiff and Georgia Hardstark. Each episode the hosts discuss a famous murder story in a way that is not too heavy on the heart, but factual enough for the listener to learn about crimes in history. The great thing about the podcast is that the hosts recommend the listeners books to compliment their stories, so you can continue your obsession!
Stella
List created by shadynz
Some of the titles I have enjoyed this year
Vicki
These are books I have read or listened to...or both...and enjoyed. I will often have the actual book or eBook & the audiobook on the go at the same time so I can continue to read to & from work & when out & about.
List created by vix1
Customer picks
Brenda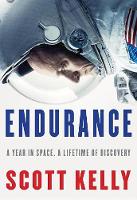 Endurance: A year in space, a lifetime of discovery Scott Kelly
This year marks the 50th anniversary of Neil Armstrong stepping on the moon. Inspired by this achievement, American Scott Kelly and his identical twin Mark train as fighter pilots then as astronauts. As children of the 60s (hey bloomer!), Man on the Moon brought kudos to science and engineering. Now the international space station is hurling in orbit, visible on most nights, and occupied continuously for over 20 years. Although America won the Moon Race, it is Russia who won and continue to dominate space. Scott and Misha, his Russian counterpart, spend a year in space - a formidable undertaking for which both are to be respected. Scott brings his day to day world on the ISS both in this book and in short videos. Apart from his extraordinary education, what shines through is how we take for granted the feel of fresh air in our lungs, water on our skin, the company of loved ones and the sacrifices we make for the greater good.
2019 best book lists
New Zealand
International
See also