Is it art or graffiti? If you've been meaning to check out the record breaking Rise street art exhibition, that is showing at Canterbury Museum, you've only got a little while before it wraps up on March 23rd.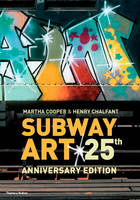 I expect the huge colourful murals created by local and international artists currently adorning walls around the central city, will be with us a lot longer and may continue the discussion that's been sparked over what constitutes art as opposed to graffiti.
Vigorous debate has played out in Christchurch newspapers over the past few weeks, but you can make your own mind up! For more on the world of street art, there are plenty of books available, and an excellent starting point would be the seminal work Subway Art by Martha Cooper & Henry Chalfont.
The exhibition features a private collection of works by Banksy, who is no stranger to public comment and curiosity. More on this mystery man can be found at our libraries.  I've just finished Banksy: The man behind the wall which, while it could have benefited from some judicious editing in my humble opinion, does give an insight into the secretive artist and his street art/graffiti origins in Bristol.
One of my Banksy favourites of the exhibition, was 'Kids on Guns', but 'Kids on Gins' by the artist known as Milton Springsteen is a brilliant take on the original.  As are his subversions of iconic New Zealand art works.  His series of 'Corrupt Classics' was one of the exhibition delights for me.
On the flip side, if it's graffiti and tagging that's an issue for your own property or neighbourhood, the Christchurch City Council wants to know.  If you'd like to take an active role in helping remove graffiti from around the city then the team at the Graffiti Programme would love to hear from you!
Two of my favourite large street art works are these ones on a couple of walls in Sydenham.
What's your take on this style of art? Love it or loathe it?