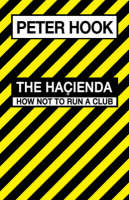 The 1980s seems like a long time ago, don't they? So long ago, in fact, that one could pre-suppose that whatever was happening musically or culturally throughout the world in the 80s is of no relevance today! BUT, did you know that today's dance music/rave culture has its roots in the 1980s underground clubbing scene of New York and Manchester? They were interesting times!
New Order's bassist Peter Hook wrote The Hacienda: How not to run a club a very interesting and transparent account of how his band's club, The Hacienda, was the primary hub during the evolution of the dance music scene in 1980s Manchester (and the world, some might argue). But it was also an account of "How Not to Run a Club"!
In the early 1980s, Factory Records and New Order spent stacks of cash in order to open the Hacienda against the backdrop of what was the culturally urban wasteland of post-war, post-industrial Manchester. A profound sense of civic duty was the noble philosophical driver behind the idea - but also New Order's collective (drug fuelled) experiences on tour in New York where they spent riotous nights at innovative clubs like Paradise Garage and Danceteria.
Easy idea on paper, madness in practice. Because although the club was the epicentre of a cultural revolution, the owners (New Order and Factory Records) lost squillions of dollars through their own mismanagement. It makes for fascinating and hilarious reading, with almost eye-watering anecdotes of mind blowing blunders and miscalculations starting with the signing of a exorbitant 25 year lease, and then regular stuff ups all along the way, which are almost incomprehensible: fires, sound systems which blow up, Manchester gangsters, lighting rigs which distract pilots flying over the area, giving staff voting rights regarding policy changes - who then continually vote to keep the price of alcohol down so their mates can purchase cheap drinks ... until widespread drug use became the norm, when no one would drink.
The book is written chronologically, with a small intermission where the author documents drug fuelled experiences in Ibiza which served as a revelation on the type of club The Hacienda could become - a large warehouse type joint with pounding dance music and a frenzy of party goers - complete with a bar that makes no money cos everyone wants to drink water. And they never sold water!
The whole undertaking was was paid for by New Order's huge album sales, without which the whole thing would have fallen over not long after its conception. Upon reflection, Peter Hook has calculated they lost 10 dollars for every customer that went into the cauldron. So when you multiply that by thousands of people each night for many years ... that's lots of cash. Whoops.
It really is a tale of how not to run a club. Or any business. But what they initiated was a euphoric revolution which gave thousands of people a liberated clubbing experience at the end of hard working weeks. The many and varied patchwork of accounts which document the broader Manchester music scene would be incomplete without Peter Hook's subjective memoirs of merrymaking. Great read!
More clubbing stuff