Last Sunday I shrugged on a heavy coat and ventured out into a grey and dismal Christchurch morning to hear two New Zealand fiction writers - Paula Morris and Patricia Grace.
The On Belonging session was advertised as exploring themes "themes of nostalgia, memory and belonging" however both women confessed very early in that neither of them had read that particular description before that morning, so things would likely veer off a bit. Writers, eh?
But, in fact, some of those themes did come through as Paula Morris encouraged Patricia Grace into remembrance and recollection over the course of the hour. The pair had an easy, relaxed rapport. Patricia Grace, whom I have never had the opportunity to hear speaking in public before, has a calm and softly spoken demeanour. She speaks slowly and thoughtfully.
To start with they spoke a bit about Grace's background, and the degree to which she grew up in two worlds. That of her father's family - rural and Māori, compared with the world of her mother's family - urban and Pākehā. The divide between her life growing up in Wellington "hooning around the streets" with her cousins and crabbing at Mirimar Wharf, and the marae community of her father's whānau, where she lives now. As a child she enjoyed the environment of sea and bush, with both in close proximity.
In fact, many of the memories she recalled over the course of the hour would factor in the sea, including the passage she read from her novel. I get the impression that Patricia Grace would not be comfortable living in a landlocked country or too far inland. As it is she seems to have a very strong sense of belonging in her seaside community with her brother, cousins and children all living in what Morris compared to a "family compound".
Chappy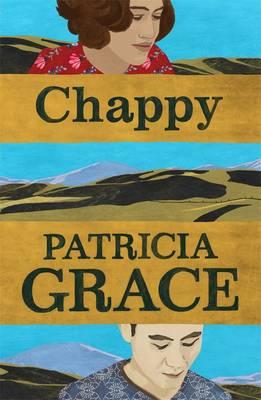 Then they moved on to discussing Grace's latest novel, Chappy which has several settings, including New Zealand, Japan, Europe and Hawaii. The novel is about Daniel, as he unpicks the story of his Māori grandmother and Japanese grandfather, the "Chappy" of the title.
Grace said "Chappy" grew out of a story she heard from her husband, who is from Ruatoria, about a Japanese shopkeeper who had lived there and was a much loved member of the community, but who was imprisoned on Somes Island during WWII, and then deported, leaving his New Zealand wife and family behind.
As an aside, due to various First World War centenaries this year, I've been looking at a lot of contemporary news reporting and this treatment of Kiwi Japanese during WWII is no different than that of New Zealand Germans in the earlier conflict. It seems we always repeat the same behaviours, demonising the enemy (and anything that reminds us of them sometimes, whether it's justified or not).
Grace started wondering how this man had come to be living there and that formed the seed of what became the novel. The device of having Chappy's story revealed by other characters was partly due to her belief that she couldn't adequately convey the mindset and culture of a Japanese character though she felt she could "get into his heart as a human being".
"Chappy" is Grace's first novel in ten years, and Morris was at pains to point out this isn't just laziness.
"People think when you're a writer and you haven't written a novel for ten years that you're just lying around eating bon bons all day."
In fact, life intervenes. Grace has seven children and a mother who lost her independence - family life does sometimes take precedence over writing novels.
Grace read from Chappy, a passage about sea journeys and stowaways.
Tū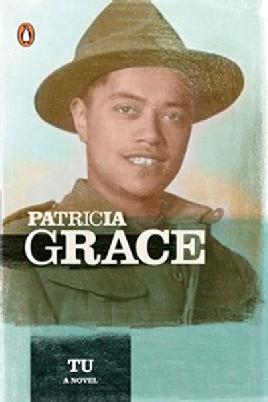 Then Morris went on to ask Grace about her earlier novel, Tū (which in Morris' opinion would make a great movie) and led to her sharing memories of being a child in Wellington during WWII. The American soldiers who gave the kids oranges and chewing gum, the ration books which she though were "cute". Trams rattling up and down (accompanied by the sound of a tram, rattling past on Worcester Boulevard). The experience of waving her dad off on a military ship so immense she mistook it for a building.
She never intended to write a book about war but found her father's notebooks and started researching. Her father had never talked about his war experiences (and she had got the impression that he'd never been at the front lines when, in fact, he had) and the stories she had heard from Māori Battalion men, who sang Italian songs, were mainly tales of mischief. Her research revealed otherwise.
Multi-culturalism and te reo Māori
Morris says that Grace is "subversive" and offers one of Grace's quotes, from 1989, for comment.
New Zealand is a multi-cultural society but you wouldn't know this from reading our literature.
Does she still feel that way?
Grace thinks that literature and the media have changed since then and technology has helped though she admits "I don't do technology, really".
She also has no issue with the novel as a "European form". "You have to do your own thing," she says "in the lens of the novel. Make it your own". Morris believes that published literature is still fairly Pākehā dominated.
A comment from the audience led into an interesting discussion about whether Grace is "political". The questioner says that "Potiki" and its use of te reo Māori really opened doors to the language for her without feeling educative. Was it intentional?
Potiki was published in 1986 and uses some Māori language components. At the time of its release, Māori was not yet an official language of New Zealand (this was achieved, after much campaigning, in 1987).
Accusations were made at the time that this use of te reo was "divisive" and intentionally political. Grace however thought she was just writing about ordinary people. Morris agreed in this saying that when she wrote Rangatira she used Māori words that lots of people would be familiar with, and any that weren't would be clear from the context...but apparently not everyone agreed. Morris also pointed out that many writers do this and have to defend themselves, people like Junot Diaz who have to explain that "this is how my characters speak".
Grace says that the only political part of "Potiki" was the absence of a te reo glossary. She'd had them before but felt that "a glossary is what you have for a foreign language".
"Nobody did a glossary for me when I came across French in a book or anything". Certainly my own reading experience with The Lord of the Rings novels and even The Chimes, is that it's not necessarily an impediment to reading if occasional words are in an unfamiliar language (elvish) or specialised vocabulary (music).
It was a shame that the session had to stop just then because I felt that there was more that could have been discussed on that topic, but end it did.
Read more