Blue and green should never be seen? Not if it's the bold, eye-catching cover of this year's WORD Christchurch programme! 
Launched last night in Tūranga, this year's festival (on 23 to 27 August) is full of literary deliciousness, brain-expanding ideas, and risky business. Once again Christchurch City Libraries is proud to play host to a number of sessions at Tūranga, because literature and libraries are the best of buds.
As always, it's a struggle to whittle the programme down to a list of picks (there are so many cool things to go to) but here's what I'm super excited for at this year's WORD Christchurch festival.
WHEN Thursday 24 August, 7.30pm-9pm
WHERE The Piano
Risk! Risk anything! Care no more for the opinions of others, for those voices. Do the hardest thing on earth for you. Act for yourself. Face the truth.' – Katherine Mansfield
On the centenary of Katherine Mansfield's death, our featured guests Gabriel Krauze (UK), Kevin Jared Hosein (Trinidad and Tobago), David Keenan (Scotland), Meg Mason (Australia/ New Zealand) and Tusiata Avia (New Zealand/Samoa) share with us moments when they've taken a risk and lived to tell the tale. 
The WORD gala is always a wonderful event, a rich "pick and mix" of talents that is the perfect opener for the festival. Though most of the writers involved aren't familiar to me this has never been a barrier to my enjoyment of this event before and I wouldn't expect it to matter this time either. Tusiata Avia is always amazing so this is a must-see for me.
WHEN Friday 25 August, 8.30pm-9.45pm
WHERE The Piano
Brilliant wāhine talk about when they took a risk, got their hands dirty and chanced it. Be enthralled by Ethique founder Brianne West, doctor and award-winning writer Dr Emma Espiner (Ngāti Tukorehe, Ngāti Porou), celebrity chef and MasterChef finalist Jax Hamilton, and Ōtautahi's Deputy Mayor Pauline Cotter. Hosted by Miriama Kamo (Ngāi Tahu, Ngāti Mutunga).
This event, in previous years, has run as "Adventurous Women" and is always extremely popular. With this line-up I fully expect this one to also be a sell-out so get in fast, if you're keen.
WHEN Wednesday 23 August, 6.30pm–8.30pm
WHERE Tūranga, TSB Space
Join your effervescent host, Ray Shipley, for a literary quiz like no other, designed by some of Ōtautahi's finest creative minds. It's time to test your general knowledge, hone your literary genius and sharpen your pencils for some real-time writing challenges. Gather your team together for an evening of fun, laughter and literary shenanigans. Have you got what it takes to be the WORD Lost the Plot champions for 2023?
Anyone who knows me knows I cannot (and will not) resist a quiz. Plus it's a gold coin donation for entry, PLUS it's hosted by former library colleague and all around good sort Ray Shipley, PLUS PLUS it's at Tūranga. That's a lot of pluses, people.
WHEN Thursday 24 August, 8pm–9.30pm
WHERE Tūranga, TSB Space
Bringing this sell-out show to his hometown, Chinese-Kiwi playwright Nathan Joe has curated a celebration of the finest BIPOC storytellers and spoken word artists. Dirty Passports
features your favourite minorities behaving badly, untwisting their tongues and shattering stereotypes all for your displeasure. Featuring Nathan Joe, Khadro Mohamed, Vanessa Crofskey, Zephyr Zhang, Juanita Hepi (Kāi Tahu, Waitaha, Kāti Māmoe, Ngāti Mutunga, Moriori, Ngāti Kahungunu, Ngāti Wai, Ngāpuhi), Josiah Morgan (Kāi Tahu, Ngāti Maniapoto) and special international guest, Kevin Jared Hosein.
'Dirty Passports gave the intersectional vibes I have been (and always am) craving — decolonisation, queerness, feminist agendas…I wasn't left wanting on any fronts.'
– The Speakeasy
I love me some decolonising, intersectional, truth-telling realness. With an event like this it's truly not possible to know what exactly you'll get on the night but my money is on it being awesome.
WHEN Friday 25 August, 6pm–7pm
WHERE Tūranga, TSB Space
Is artificial intelligence any match for the combined years of wisdom of Tūranga's reading advisor librarians? Join us for a fun hour of human vs machine, AI vs librarian, where you, the audience can ask for a personalised reading recommendation from a panel of librarians and their electronic opponent. Which would you prefer? The very future of reading may well be decided on this very night.
As much as I wish this event were some kind of grudge match cage fight in which librarians unleash their technology-focused frustrations on computer hardware (who hasn't wanted to take a sledgehammer to a copier-printer at some point?) alas, this is a battle of ideas, a skirmish of suggestions, a tournament of testimonials - you get the gist. For the sake of librarianship, let's hope AI isn't up to the task...
(Just in case you've already decided AI isn't for you, you can request reading recommendations from us online, any time!)
WHEN Friday 25 August, 7pm–8.15pm
WHERE Little Andromeda
Our ever-popular tiny lecture series returns as five writers share their weird and wonderful deep obsessions. What will Emily Perkins, Gabriel Krauze, Andrew Paul Wood, Melody Thomas and Juanita Hepi (Kāi Tahu, Waitaha, Kāti Māmoe, Ngāti Mutunga, Moriori, Ngāti Kahungunu, Ngāti Wai, Ngāpuhi) reveal to us? Hosted by Erin Harrington. 
Is there anything so wonderful as hearing someone expound on their own personal, well-researched obsessions for no more than 15 minutes? If it's your taxi driver it's maybe not so much fun but in the context of Cabinet of Curiosities it's truly magic. The things I've learned! Presenters keep their talks tight and crispy and not knowing what you're going to hear about is part of the allure, for me anyway. According to the programme this is always a sell-out, so it would pay to book sooner rather than later.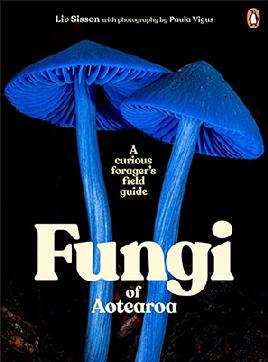 WHEN Saturday 26 August & Sunday 27 August,10.30am–12.00pm
WHERE Meet at The Piano
Join Fungi of Aotearoa: A Curious Forager's Field Guide author Liv Sisson for a stroll and a forage in our own urban garden. Walk along the Avon River/Ōtākaro to discover what delights can be found along the banks. Learn practical tips for identifying edible fungi and other interesting morsels along the way and even hear magical tales about fungi's role in our world.
Suitable for those new to foraging and budding experts alike.
I have spent most of my life not really liking fungus (blue cheese? No thank you!) but whether it's the popularity of The Last of Us, or the increased interest in foraging, fungus and mushrooms seem to be having "a moment". Maybe I'm just fascinated by the notion that the caps growing in that shady spot in my back garden could be deadly and/or delicious. There's something otherworldly, mysterious and compelling about the world of fungus.
(for more on Liv Sisson's book, read Donna's coverage of the book launch at Scorpio in June)
WHEN Saturday 26 August, 12.30pm–1.30pm
WHERE The Piano
Australian-based New Zealand born writer Meg Mason's smash hit, Sorrow and Bliss, was shortlisted for the Women's Prize for Fiction last year. Described as 'The Bell Jar but hilarious' by the Graham Norton Book Club, the novel has also drawn comparisons to Fleabag by Phoebe Waller-Bridge. Meg joins Noelle McCarthy on stage to discuss her life, from her Foxton/ Palmerston North beginnings, her career as a journalist for the Financial Times and writing about motherhood before turning her hand to critically acclaimed bestselling fiction.
I was OBSESSED with Sorrow and Bliss while I was reading it - how did it somehow managed to be gut-wrenching and hysterically funny all at the same time? Well, this would be my opportunity to find out, I suppose, and I'm not passing it up. One of the benefits of Sorrow and Bliss being a few years old (it came out in 2020) is that there's no longer an epic holds list for it. You stand a reasonable chance of getting this read before this session, so if you haven't read it yet, I'd recommend getting on that.
WHEN Saturday 26 August, 3pm-4pm
WHERE Christchurch Art Gallery
Every week business journalist Frances Cook hosts the NZ Herald and BusinessDesk's Cooking the Books podcast, tackling a different money problem each time, generously offering practical and achievable financial advice. Frances joins us to discuss what she's learnt about money so far, and discuss what changes are really worth making in our financial lives. In conversation with Guyon Espiner.
Look, unless you were the person who won $33 million dollars on Lotto the other week (and even if you are) you could probably benefit from Frances Cook's financial wisdom. I know I certainly could. When it comes to managing your money there's always room for improvement and having someone explain financial stuff in a way that's accessible is truly a great boon to those of us who are economic dummies.
WHEN Sunday 27 August, 4.30pm–5.30pm
WHERE The Piano
First published 50 years ago, Tangi was Witi Ihimaera's (Te Whānau a Kai) debut novel and the first to be published by a Māori author. An unstoppable literary force, with novels, short stories, films, plays and many collections to his name, Witi has just co-edited, with Michelle Elvy, A Kind of Shelter: An Anthology of New Writing for a Changed World and, with Vaughan Rapatahana, the forthcoming anthology of Māori writing, Ngā Kupu Wero. Victor Rodger has a Sunday korero with Witi, rangatira of Aotearoa stories.
I'll admit it's been a long time since I read Tangi and I hadn't realised it was 50 years since its publication. It's so strange to think that we've only had 50 years of Māori literature in the form of the novel - there are yet so many stories to tell. I've been lucky enough to catch Matua Witi at earlier WORD outings and he has what I can only describe as "a sparkly energy". Make of that what you will. With Victor Rodger in the interviewer's seat I'm sure it will be a wide-ranging and entertaining chat.
And the rest
I told myself I was only going to do 10 picks but IT'S SO HARD, so there's also Summoning Whakapapa, Dr Hinemoa Elder and Dr Emma Espiner: Making it better, Shaneel Lal: One of them, The quiet hero: Andrew Bagshaw, Catherine Chidgey: Pet, Tusiata speaks with John Campbell, not to mention some amazing sounding masterclass workshops including those run by Melody Thomas (podcasting) and Pip Adam (humour in fiction).
Make your own picks of the festival by checking out the programme online or picking up a printed copy, coming to a library near you soon!
Find out more