How often do you think about water? Every now and again when you suspect the hot water cylinder might not manage another dishwasher load? Occasionally when you note how much a bottle of it costs at the dairy?
Journalist (and ITV science correspondent) Alok Jha suggests that we should all be paying a bit more attention to this miraculous and yet thoroughly prosaic substance. After all our planet is "a blob of water with a few dry patches". It's one of the most important things on our planet and all life relies on it. Worth more than a passing thought, once in a while, surely?
In order to turn us to his way of thinking he provides us with an background on the science of water. Had any of us considered, for instance, how the water on our planet actually got here?
I'm someone who considers herself to have a good imagination but I'd honestly never wondered this. Water just is. I think I'd assumed it had always just been here, but water is actually younger than our planet.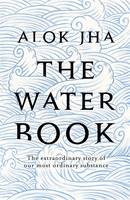 It started in space in clouds of dust and gas from stars that have gone supernova. This is where our oxygen comes from. The hydrogen part of the equation originates with the Big Bang. Some molecules bash together with some grains of cosmic detritus and then some more and some more and if you follow that chain of events long enough you end up with chunks of ice - asteroids and comets that about 4 billion years ago bombarded our planet (only for about 500 million years - just a passing storm) and resulted in all the surface water we have on planet Earth. So next time you take a dip in the ocean or drink a glass of water, consider that that stuff used to be hurtling, frozen, through space.
Jha also pointed out some really interesting qualities that water has. Firstly that in solid form it floats on its liquid form. Hence icebergs. Most substances don't behave this way. Usually the solid form is more dense and sinks. This is actually crucially important for life on Earth because if ice didn't float then during an ice age all life would get killed off instead of some of it living on underneath the frozen surface where some liquid water remains.
The other important thing about water is surface tension. Water is sticky and loves sticking to itself too and this surface tension allows for certain biological processes, like a plant's ability to, against the force of gravity, draw water upwards through very thin tubes, or the way our capillaries can transport our mostly watery blood around our bodies.
All these things we take for granted, most certainly at our peril.
Jha was at pains to point out that the quantity of water on our planet isn't the issue. It's essentially a closed system. The same amount of water moves through us, around the earth, into the atmosphere and so on. Rather it's the quality at issue. Water that's of the type that can sustain us is rather less common and becoming less so.
Polluting water is easy, unpolluting it? Well, that doesn't happen much.
Jha's talk involved things as varied as -
Cute photos of antarctic penguins and seals (cynical manipulation via cute animal appeal openly admitted to)
Official confirmation that drinking your own urine is "a bad idea"
A stomach churning illustration of why Jha was so seasick on his Antarctic voyage (see the horizon line in the photo below)
But the main idea was that the only way for us to take better care of our water resources is for a larger number of us to actually be more aware of them, of how much water we use and how vital it is for our survival. For us to all just stop taking it for granted.
More WORD Christchurch