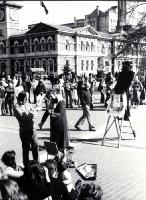 Cathedral Square was first named Ridley Square to commemorate Bishop Nicholas Ridley, martyred at Oxford in 1550. (His co-martyrs and colleague bishops, Cranmer and Latimer have Squares named after them, not far distant). It is laid out in the form of a cross.
The Square was originally designed to be a privately owned space for the Cathedral and a grammar school on the Christ Church, Oxford, model. However, the Square gradually became a community focal point and a major centre of activity. In 1974 it was redeveloped to provide large pedestrian areas, and traffic was diverted around the perimeter of the square.
Impact of 2010/2011 earthquakes
Cathedral Square was crowded with people on February 22, 2011 when the major 6.3 earthquake hit. Dramatic scenes occurred as the Christ Church Cathedral crumbled and a woman was rescued from a window in the cathedral tower. Many notable buildings around the square were damaged and have since been demolished or are scheduled for demolition. These include The Press building, Warners Hotel, the BNZ building, Government Life building, the Grant Thornton Building, Crystal Plaza and Chancery Chambers. The Old Government Building (now the Heritage Hotel) survived and reopened. Cathedral Square was inside the CBD Red Zone cordon until 30 June 2013.
Related pages
Sources
This was originally derived from the Christchurch City Council handbook of 1998.