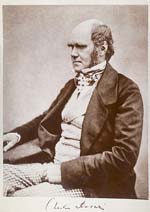 Charles Darwin, naturalist and author, was born in 1809. Darwin's most famous and challenging work was On the origin of the species. His writings changed the way many people perceived the world and even today his work is still a flash point in the debates between religion and science.
New Zealand and Canterbury connections
Darwin has connections to New Zealand, including a Cantabrian correspondent. During its five-year voyage of exploration The Beagle spent nine days in the Bay of Islands in 1835. The voyage was a pivotal experience for the young naturalist but his memories of his time in New Zealand were less than fond.
Christchurch correspondence
Christchurch City Libraries' Richard Greenaway in his Avonside Anglican Parish Cemetery tour records a Darwinian connection to Christchurch in the person of William Swale, a horticulturist and beekeeper who wrote for English periodical The Gardener's chronicle. He corresponded with Darwin who honoured him by quoting him in lectures and in his own contributions to The Gardener's chronicle.
A labourer and gardener, Swale had no nose and had difficulty making himself understood, but this did not stop him being a successful business operator. He lived in Antigua Street (formerly South Christchurch Road), and sold plants in Market (Victoria) Square. He had two gardens, one on Kilmore Street, the other a 2.75-acre plot known as the Avonside Botanical and Horticultural Gardens on what is now Woodham Road, near Wilding Park. He raised trees and shrubs, won prizes for his fruit and vegetables at the Christchurch Horticultural Show, and penned columns for the Lyttelton Times.
According to Greenaway: "Swale looked closely at nature. When writing of pollinating insects, he observed that 'The grasshopper is equally as industrious as the bee in puncturing the keel and splitting it open. I have often been amused during the last summer here with his antics jumping about releasing the stamens'." Swale died 18 February 1875.
Search our catalogue
Browse eResources
Search the following databases for information about Charles Darwin:
Access these with your library card number and password / PIN, or at our libraries.
Browse the Internet
Contains Darwin's complete publications, private papers, a Darwin bibliography, manuscript catalogue and hundreds of supplementary works.
A six part series of podcasts first broadcast on Radio New Zealand in 2008. The series explores the ideas of Darwin and their impact and features some of New Zealand's most eminent scientists.
Charles Darwin was part of a large and intermarried clan of Darwins and Wedgwoods (the famous china family). Among his descendants and relations are the composer Ralph Vaughan Williams, poets Frances Cornford and John Cornford, writer Gwen Raverat and Skandar Keynes (Darwin's great-great-great grandson who played Edmund in The Chronicles of Narnia films).
Article from Time Magazine. Includes link to photos.