What is chicory?
Chicory is the ground root of a tall herbaceous perennial, rather like a parsnip, which can grow to over two metres with flowers of blue, white, or pink. The fleshy taproot of the first year's growth is harvested in the winter, dried, ground and roasted.
Until the 1960s, when instant coffee was invented, coffee and chicory essence was a popular alternative to using roasted coffee beans. It was a thick black liquid with a very distinctive attractive aroma and sold in bottles. It was often drunk with sweetened condensed milk.
Edwin Trent, chicory growing pioneer
The first person to grow and process chicory in Australasia was Edwin William Trent (1839 - 1883) who arrived in Nelson at the age of sixteen on the ship "Sir Allan" in August 1855. He operated a steam coffee mill in Nelson and later moved to Christchurch where he bought a grocery shop just to the north of the Papanui bridge (now in Victoria Square), in what was then Whateley Road, and established the first steam coffee mill here in 1863. Later that same year, on July 18, he was able to advertise in the Lyttelton Times that "the arrangement of Trent & Co's Steam Coffee Mills being now complete, they are prepared to supply the public with coffee of a much superior quality than has hitherto been obtained from any foreign market". For a while, up to 1871, he operated his mill in Cambridge Terrace before returning to the Whateley Road site where he built new premises.
Moving to Templeton
About 1866 he bought 150 acres of land for £712 on what was familiarly known as Dawson's and the Waimakariri Road, near the Templeton Railway Station, to grow chicory. The land was to prove particularly suitable as it was dry and warm with light sandy soil.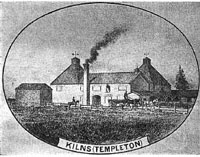 Here he built a 17,000 ft. interconnecting timber complex of kilns, warehouse, chaff-house, office etc. Coke fired furnaces in the kilns produced hot drying air to pass up through the chicory roots which had been cut into small cubes and laid on floors of perforated tiles through which the hot air passed. The steaming chicory had to be turned every two hours and five tons of green root were needed to produce one ton of kiln-dried root. After the drying process was over, the chicory was taken into Christchurch, where the roasting and grinding was done and the chicory blended with expensive coffee imported from the West Indies, South America and Africa to make the coffee and chicory essence. A lengthy article in the Lyttelton Times, 6 February 1871 applauded Trent's "energetic enterprise". He was also shrewd enough to take advantage of "the favouring protection of threepence per pound duty on chicory". The Christchurch works provided employment for "seven persons continually". The farm employed up to forty but work was more seasonal here. Many of the local farmers welcomed the chance to supplement their income with extra work on the chicory farm.
By 1872 the production of the chicory had proved so profitable that Trent was able to retire from the coffee business and devote himself entirely to the management of the farm and chicory works. The farm now comprised two hundred acres and the road leading to it had been renamed Trents Road. He had formed a partnership in 1869 with his brother, James (1851 - 1915), and, in 1872, they were joined by another brother, Frederick (1842 - 1922).
Disaster
However on 18 June 1873, disaster struck when a fire broke out which resulted in almost total destruction of the works. Edwin Trent had returned to his home in Worcester Street, near Fitzgerald Avenue, in Christchurch, leaving four men who slept at the farm, their duties being to watch the kilns, which were kept alight day and night. At 4am they discovered that the chaff-house adjoining the main building, which was filled with oat-sheaves, was alight. The detailed report in the Weekly Press, 21 June 1873, p11, said the fire spread to the main building and the chicory formed "an incandescent mass of intense heat" and buckets of water thrown were "of little service in extinguishing the fire". Amazingly, some of the stock was saved after the burning crust was removed from the pile. The newspaper report paid tribute to "the indefatigable labour of Messrs Trents' employees". Even though none of the buildings was insured and Trent's losses were estimated at £5000, the barn was immediately rebuilt in brick obtained from the brickworks at Cashmere. This still exists as an historic building and houses the Trent's Estate Winery restaurant today. Outside the main doors is a commemorative stone placed there in 1873 that has a phoenix carved on it. The word "RESURGAM" (Rise Again) could be made out until the late 1960s. Sadly, it is now too worn to read.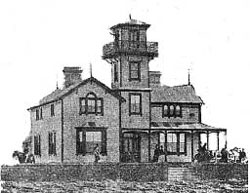 Marriage and a new house
Edwin Trent married Mary Duckmanton, (?1831 - 1917), a 43-year-old widow, in 1874. About this time he built an eight-roomed, two-storey farmhouse, complete with observation tower, from which he could supervise his workers in the fields in comfort, using a telescope. (This house was not demolished until 1968.) His brothers, James and Frederick, diversified the town business and moved the premises to the corner of Durham and Chester Streets (323 Durham Street). It became Trent Bros., manufacturers of Chicory, Pepper, Coffee, Spices. The Templeton farm was now six hundred acres in size and the firm exported much of its product to Australia.
Edwin Trent died childless in 1883, but not before he had seen Trent products win a special gold medal at the Christchurch Exhibition in 1882 for general excellence, as well as first prize awards at the Melbourne and Sydney Exhibition. As early as 1873 he had gained the world's award at the Vienna Exhibition. In his day he was hailed as a pioneer of industry in the infant colony.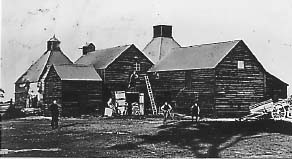 Later history of the Trent business
Frederick Trent bought James' interest in 1889 and became the sole proprietor. Edwin Trent's widow leased and then later sold the Templeton farm to a William Bailey in December 1907. Later, part of it became a soldier settlement.
During the Second World War (1939 - 1945) chicory production in the Templeton and Prebbleton areas ceased because of the shortage of labour.
In 1955 the protective tariff was lifted from imported chicory and it became cheaper to import the root from overseas. In 1959 Trent Bros. became New Zealand Coffee and Spice, later Murdoch Trents, situated at 219 Moorhouse Avenue. In the mid-1970s it was bought by Foodstuffs Canterbury and in the mid-1980s it shifted to Sturrocks Road, then to the old Helene Curtis building on the Main North Road opposite St Bede's College.
Other areas of chicory production in New Zealand
There were other known chicory kilns in the Templeton area. James Jones (1835 - 1922) operated two chicory-drying kilns on his own farm at Prebbleton for working on Trent's chicory and later leased Trent's kilns.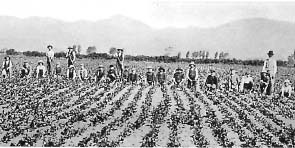 Another photograph in The Weekly Press of 1905 shows weeders at work on Mr W Roberts' chicory farm at Spreydon. Chicory to be grown well requires intense cultivation and needs careful hand weeding.
William Roberts was born in 1855 and in 1864 came to Canterbury with his parents on the ship Indian Empire. His father was a farmer and took up land in Innes Road, St Albans. William helped his father for many years. He later bought a large block of land in Edinburgh Street, part of the 200 acres known as the Lyttelton estate owned by the absentee landlord, the Hon. Spencer Lyttelton (1818-1889). Here Roberts was one of the first farmers to experiment in the growing of tobacco, linseed, liquorice, basket willow and chicory. He became well-known especially as a chicory grower and established a business in Lincoln Road called the Canterbury Chicory Works Ltd. He died in 1933, his son taking over the business.
Chicory was also grown at Inchclutha, South Otago, from the 1880s until the 1950s for Gregg and Company, who offered free seed to anyone willing to grow it for the firm.
In 2002 the Neudorf Vineyards, Moutere Valley, Nelson had chicory interplanted in the rows of vines to provide competition and increase soil organic matter. The producing vines were not irrigated.
Coffee and chicory essence can still be bought but is used mainly as a flavouring agent in baking.
Sources
Industries of New Zealand, illustrated: an historical and commercial review, descriptive and biological, facts, figures and illustrations. An epitome of progress: business men and commercial interests, Auckland: Arthur Cleave publishing co., 1898, p146
Loach, Cyril, 1902-1987. Templeton: the first one hundred years. Christchurch: Paparua County Council, 1962
Lyttelton Times, 18 July 1863, p5
Lyttelton Times, 6 February 1871, p2 - 3
Macdonald, G.R. Index to G. R. Macdonald dictionary of Canterbury biographies. Christchurch, 1964?
New Zealand Legacy, 1997; 9(1): 20 - 21
New Zealand Growing Today, Jan 1995; 9(1): 64 - 65
The Press, 1 February 1969, p5
The Weekly Press, 21 June 1873, p11
Acknowledgements
John Shanks, Trent's Estate Winery
Paul Johnston, Foodstuffs