Some older cemeteries in Christchurch were once known by different names and these names may appear on death certificates or in newspaper notices. Below are some of the names which may occur:
The Barbadoes Street Cemetery was established with portions for Anglicans, Catholics and Dissenters (that is, everybody else). Before 1885, the graveyard was called 'Christchurch Cemetery'. After 1884 the only people who could be buried at Barbadoes Street were those whose family already had a plot there.
Addington Cemetery was established by the Presbyterian Church. The Presbyterians called it the 'Christchurch Public Cemetery' as people from all denominations could be buried side by side but Addington was commonly known as the 'Scotch Cemetery'.
In the 19th century, New Brighton included the area now called Burwood. What was originally called 'All Saints' Churchyard, New Brighton' is now the Burwood Anglican Cemetery.
The Woolston Cemetery in Rutherford Street, Woolston, has been called the 'Woolston Cemetery' and 'Heathcote Cemetery'.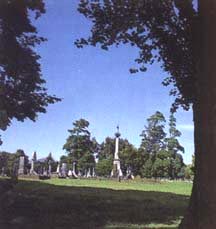 The Waimairi Cemetery has been styled 'Fendalton Cemetery'.
The Linwood Cemetery has been called 'the Sandhills', the Public Cemetery, and, more commonly, the 'Corporation Cemetery'.
There was a Wesleyan cemetery in Withells Road. The bodies were transferred to a common grave in Waimairi Cemetery.
The Jewish Cemetery was once situated in Cashel Street and to the east of Fitzgerald Avenue. The bodies were transferred to the Jewish portion of Linwood Cemeteryand a monument erected in their memory. The land where the cemetery stood was sold for housing.