This page is designed as a step by step guide to researching your family history.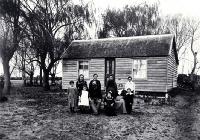 On this page
First steps
Gather the information that you already have.
Research principles
Work from the known to the unknown
Starting with yourself, work backwards through each generation.
Interview relatives
Write or talk to family members. Ask them about family names, where the people lived, when and from where they emigrated. Some records may be in family homes: e.g. letters, school yearbooks, wills, photographs, birth, marriage and death certificates.
Write down what you find and where
What institution? Which collection of records? What volume and page number? Which microfilm reel? Record the sources searched, even if the results are negative.
Search every possible spelling
Especially of names, including phonetic and typographic errors.
Re-check material already gathered
Clerical errors creep into documents and dates may have been entered incorrectly.
Recommended books
A. Bromell, Tracing family history in New Zealand
A. Bromell, Tracing family history overseas from New Zealand
R. Henry, Find your family on the internet: a New Zealand guide
A wide-ranging introduction to online genealogical searching from a New Zealand perspective.
Start your charts
Various family history charts recommended by the New Zealand Society of Genealogists can be downloaded from their web site. Genealogical computer programs are now available. A local family history group can give advice and support.
Online Family History and research topics - Starting your family history with charts and trees
A brief guide to caring for precious family records and links to further sources of information.
Next Steps
Decide what information to look for now. Keep filling in the details while following the basic research principles above.
When and where they arrived in NZ?
What were the names of their children?
What were the names of their parents?
What was the name of their spouse?
Can I get hold of a birth, marriage or death information?
Where were they buried?
Can I find a will or probate for someone?
Can I find out where they lived?
Where was the land they owned?
What was the school or church they attended?
Are there any details of hospitals or childrens' homes they attended?
Is there any information about their work or company?
What other biographical information can I find?
Can I get hold of police or court records?
What can I find about someone who was in the war?
Still looking for further information?
Writing a family history
Contact the Professional Historians' Association of New Zealand/Aotearoa. They provide contact details for people experienced in researching and writing family histories.
Guides to writing a family history:
Updated: April 2012