Electoral rolls locate where someone was living, and also, sometimes identify other family members of voting age living at the same residence or within the same community.
On this page
Voting rights
For the history behind voting in New Zealand, including key dates of legislative changes which may be relevant to your research, see the following resources.
Key dates
1867 — all Māori men were entitled to vote
1881 — all men, whether property owners or not, were entitled to vote
1893 — women were enfranchised
1974 — voting age was reduced to 18
New Zealand general electoral rolls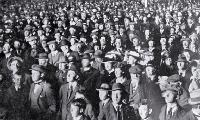 The New Zealand Electoral Rolls are now available on Ancestry.com which is available in our libraries. Ancestry's collections include New Zealand Electoral Rolls 1853-1981 and the Maori Voter and Electoral Rolls 1908 and 1919, as well as the Canterbury Provincial Electoral Rolls 1868 to 1874.
Christchurch City Libraries has, on microfiche, a collection of early electoral rolls for the various provinces and also early general election rolls. The first New Zealand Parliament met in 1856.
The early rolls, covering 1853-1864, are held on microfiche, and from 1865-1957 on microfilm. The rolls for 1943 and for 1960-1981 are on microfiche. Hardbound copies from 1984 to the present-day are available on the shelves on Tuakiri | Identity, Level 2, Tūranga. 
The rolls for the years 1869-1875 provide names of persons claiming entitlement to enrol and claimants against whom objections have been lodged. This information was copied from Government gazettes and newspapers.
The rolls are arranged chronologically by province or electoral area.
At the end of each main roll, there is the supplementary roll, followed by an 'errata' page. These show names which have been spelt incorrectly. There is a list of numbers. Each person on the roll has his/her unique number. The list at the end shows who is no longer eligible to vote in the particular electorate.
Electoral rolls from the 1860s-1920s separate electorates into the North and South Islands.
From 1931 electorates appear in strict alphabetical sequence.
After the enfranchisement of women in 1893 couples and their adult single children are listed all together on the roll.
The Chatham Islands were incorporated into New Zealand's electoral system in 1922; European electors were included in the Lyttelton electorate and Māori electors in Western Māori.
These microfiche lists are arranged geographically, from north to south. They were originally published in newspapers and gazettes. Jury lists include the names of male property owners and leaseholders and are a useful forerunner to electoral rolls, which were not compiled until representative government was introduced in 1856.
Produced in 2001, this microfiche lists electors in one alphabetical sequence, their residences, occupations and the electorate in which individuals were enrolled. The electors were all men, women not being enfranchised till 1893. Māori men will appear in the index only if they voted in general rather than Māori electorates.
Tuakiri | Identity, Level 2, Tūranga has microfilms for the general election which should have taken place in 1941. The election was held in 1943 because of World War II. 153 microfiche list people enrolled for the 1943 election.
The four Māori seats were established in 1867. However Māori were not required to register before voting and Māori electoral rolls were not produced until 1949. Exceptions are the New Zealand Maori voters' rolls, 1908

, opens a new window

and the New Zealand Maori electoral rolls, 1919 held on Tuakiri | Identity, Level 2, Tūranga on microfiche.
The Habitation index to the 1908 list for the Southern Maori Electorate

, opens a new window

 lists people who were on the Māori electoral roll in that year. In all three resources, entries are arranged alphabetically by name with details of tribe, hapū, address and sex.
The number of Māori electorates has increased since the introduction of MMP in 1996 and they have been given Māori names.
Note: Māori have always been able to decide which type of electoral roll to be on so some Māori ancestors may appear on general electoral rolls.
In 1893 New Zealand became the first country to grant the vote to all adult women. The electoral roll CD Rom, which is available on Family History Computers, contains over 303,000 records for this election sorted alphabetically. The roll has details of women and men. Relevant electorates, addresses and qualification rights are included but, as with modern rolls, there is nothing about the relationship of one elector to another.
These seven microfiche alphabetically list the women who were on the roll when first able to vote in 1893. The women's place of residence is also mentioned.
Christchurch City Libraries has bound volumes of Canterbury provincial government electoral rolls from 1855 — 1875. Provincial rolls for 1871 are on microfilm.
Provincial government existed from 1853-76. At this stage women did not have the franchise and there were restrictions on men's voting rights. Generally men who leased or owned property had the vote, and those who had land in several parts of the province had more than one vote (called 'plural voting').
Habitation Indices
A habitation index lists electors within an electorate according to their street address. Streets are listed alphabetically.
Nationwide copies can be viewed at the Registrar of Electors offices. The Christchurch office is on Level 2, Powell Fenwick House, 383 Colombo Street, Sydenham. Only habitation indexes for the greater Christchurch area are held here.
Photocopying is not permitted.
The indices can be bought from the Electoral Enrolment Office in Wellington. Previous years' are deposited at the National Library of New Zealand in Wellington.
Christchurch City Libraries does not hold copies.
Local government rolls
Christchurch City Libraries has Christchurch City Council electoral rolls from 1909 to the present day. Christchurch City Council rolls do not record people who lived beyond the boundaries of the city e.g. Riccarton, Waimairi, Paparua and Heathcote before amalgamation.
In early local body elections the possession of property was important, not gender. So women in some parts of the country were voting in city, borough and county elections from the 1860s. The 1898 Municipal Reform Act established non-gendered freehold and residential qualifications.
These local government rolls may be arranged by wards (electoral boundaries) within city. There was a ward system in 1909 and for a short time after, and there has been a ward system since the 1970s. The alphabetical lists within each ward need to be searched as there is not one list for the whole city.
Christchurch City Council
Christchurch City Council was established in 1862. Old electoral rolls have not survived. Tuakiri | Identity, Level 2, Tūranga holds all the Christchurch City Council electoral rolls from 1907. Up until the 1930s, the rolls were annotated by council clerks who checked daily newspapers and added dates of death against voters names in the rolls.
Christchurch City Council was the major electoral authority but others, which included road boards, borough councils, county councils and district councils, existed in the Greater Christchurch area. Many amalgamated with the city in 1903 and others were taken over in 1989. Banks Peninsula became part of Christchurch city in 2005. Electors who lived outside the city are found in parliamentary electoral rolls.
Some local authorities were the Avon Road Board (later Waimairi County Council), Heathcote Road Board (later Heathcote County Council) and Riccarton Road Board (later Riccarton Borough Council). There were borough councils at New Brighton (amalgamated with Christchurch city in 1941), St Albans, Linwood and Sydenham (amalgamated in 1903), Spreydon and Woolston (amalgamated in 1921).
Waimairi District Council, Paparua County Council, Riccarton Borough Council and Heathcote County Council amalgamated with Christchurch City Council in 1989, Banks Peninsula District Council in 2005.
Mayors and councillors
Useful for finding Christchurch mayors or councillors. Includes the dates when they held office. We have begun digitising CCC yearbooks from 1905.
Listed on the Christchurch City Council website.
Photographs of the mayors of Christchurch are on display at the Christchurch City Council. Tuakiri | Identity, Level 2, Tūranga also holds a card file index of portraits of prominent Christchurch citizens, and this includes photographs of mayors and councillors published in newspapers or held by the Council.
Book resources
Provides a map of the provinces, tells when they were established, when new provinces were formed and when provinces ended during the lifetime of the provincial system.
Details when particular classes of people — Māori, working class men, women — were awarded the vote.
Very detailed contemporary history.
Provides information on the granting of universal manhood suffrage in time for the 1881 general election and of universal female suffrage in 1893, both of which John Hall was involved in.
This resource, published in 1989, has maps showing the location of particular electorates, when their boundaries were changed, and what new names were given to them. It is an ideal resource when the town or suburb where a person lived is known, but not the specific electorate.