Court and police records can provide interesting background information on individuals, both police and criminals.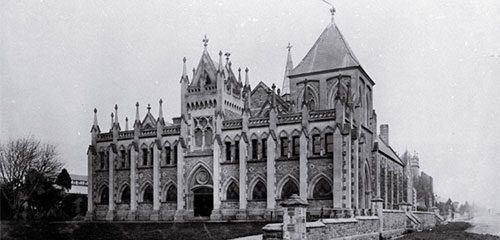 On this page
The courts
Most court material, including civil registers and criminal record books, is available to the public if more than 60 years old. Archives New Zealand, Christchurch holds:
Supreme/High Court data from Christchurch and Timaru
Magistrate's and District Court data from South Canterbury and the West Coast
Magistrate's Court records from Akaroa, Arowhenua, Ashburton, Cheviot, Christchurch, Christchurch Children's, Coalgate, Culverden, Darfield, Fairlie, Geraldine, Hampden, Kaiapoi, Kaikoura, Leeston, Little River, Lyttelton, Malvern, Methven, Oxford, Rangiora, Sheffield, Southbridge, Temuka, Timaru, Waiau, Waimate and Waimea
Greymouth High Court records
Magistrate's Court records (including Warden's court records) for Charleston, Denniston, Granity, Greenstone, Hokitika, Kumara, Lyell, Matainui, Murchison, Okarito, Reefton, Ross, Seddonville, Stafford, Westport, Waimangaroa and Whataroa
All have information on major and petty criminals
Fathers of ex-nuptial children are listed
Jury lists
These microfiche lists are arranged geographically, from north to south. They were originally published in newspapers and gazettes. Jury lists include the names of male property owners and leaseholders and are a useful forerunner to electoral rolls, which were not compiled until representative government was introduced in 1856.
Criminals
Provincial and national police gazettes
Police gazettes contain a wealth of information on crimes and criminals.
Other sources
J. Robinson, Of diverse persons: men and women and whores: women and crime in nineteenth century Canterbury. MA thesis, 1983. An excellent guide to the Victorian attitude to women and their offending. Includes examples.
Archives New Zealand, Christchurch has indexed police records such as charge books and diaries. Access is permitted to records more than 70 years old. Material is held for Akaroa, Amberley, Blackball, Christchurch, Coalgate, Fairlie, Granity, Greymouth, Hokitika, Islington, Kaiapoi, Karamea, Leeston, Lyttelton, Methven, Murchison, Okarito, Otira, Riccarton, Timaru and Whataroa.
Archives New Zealand, Christchurch holds Christchurch police draft correspondence books, including their inward and outward draft letters from the 1870s to the 1940s. The volumes contain frank comment about individuals. If there had been a crime, the police would record who might or might not have done it and why. Also contains information on policemen and their careers.
For further information, you can check the library's catalogue under the following headings: