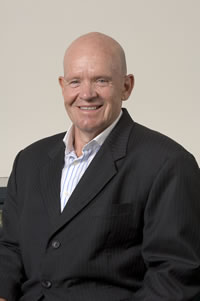 Graham Condon, rendered a paraplegic after contracting childhood polio, was a paralympic champion, representing New Zealand at six Paralympics between 1968 and 1988, winning medals and setting both national and international records in several events.
Condon was elected as a Christchurch City Councillor in 1995. He served four terms and was standing for re-election for the Shirley-Papanui ward.  Condon was killed after he was hit by a car on Lower Styx Road on Saturday, September 8, 2007, whilst riding his hand-propelled bicycle.
He is survived by his wife Kath and children Craig and Andrea.
Following a proposal by the Mayor Garry Moore the new recreation centre in Papanui was named the Graham Condon Recreation and Sport Centre. The centre opened on October 8, 2011. A plaque commemorating Councillor Condon's work was unveiled at the Papanui Service Centre in a breakfast ceremony.
A tribute page was opened to the public on the Christchurch City Council website. The tributes were added to a condolence book which was presented to Cr Condon's family. The funeral service for Graham Condon was held at the Cathedral of the Blessed Sacrament, Barbadoes Street, at 10am on September 14 2007.
News reports
Get further behind the news
In our catalogue