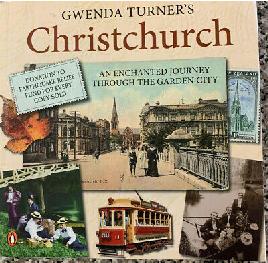 Born: May 11 1947, in Kyogle, Australia
Died: February 15 2001, in Christchurch, New Zealand
Early life
Gwenda was born in Australia but moved to New Zealand aged 19. Her parents were Walter David and Mary Williams. She left school at 16 to become a secretary and in 1967 she completed a Graphic Design course at the Wellington Polytechnic.
Adult life
In 1971 Gwenda moved to Norfolk Island where she worked as a Graphic Design Consultant and ran a handcraft studio. Gwenda moved to Christchurch in 1974 and married John Turner, an advertising executive, on July 31 1974.
In 1977 her first book Akaroa: Banks Peninsula, New Zealand was published. Her first children's book, Daydream Journey, was published in 1981. The Tree Witches won the Russell Clark Award for illustrations in 1984 and Australian Children's Book of the Year Award for best picture book in 1985.
Gwenda had nearly 30 books published. Her work became well-known for its life-like style featuring children in typical New Zealand settings. Her most ambitious work, Gwenda Turner's Christchurch was a tribute to Christchurch - a city she loved with a passion. Many of her children's books were based on real events in New Zealand including Bears in the Park, which is set around the annual Teddy's Bear Picnic in Hagley Park, and The Builder's Cat and Penny and Pocket, which were based on local news stories.
Gwenda died in Christchurch on 15 February 2001.
In her own words
"I like to base my stories on real events, real children and real animals I've met. I like to use reality - a real remembered moment."
On designing a book - "The pictures interpret the text. They enlarge the meaning of the words. When satisfied with the "rough", I make up a book to the exact finished shape and size and prepare what is called the "dummy book". In this book I do very detailed pencil drawings of the illustrations and indicate the size and style of typeface. I regard a line of words as part of the picture. The dummy book, the typed story, and perhaps one illustration, painted in colour, is then sent to the publisher. My style of illustration is true to life and I research everything I draw. I like working to deadlines. Very few days pass by when I haven't nibbled away with a pen or brush."
Summary
Gwenda Turner wrote and illustrated many children's books. Her love for New Zealand, and particularly Christchurch, is reflected in her life-like illustrations based on "real remembered moment(s)" of typical New Zealand life. "The ideas for my stories come from my childhood experiences.
SOURCES AND MORE INFORMATION
Resources by and about Gwenda Turner in our catalogue
Gwenda Turner in Books and Authors database
Gwenda Turner. School Library Review, Vol. 7, No. 1, 1987
Herstory: the New Zealand women's diary. Auckland, N.Z. : New Women's Press, 1988.
Builder's Mate makes it in print. Kathryn McNeil. The Press, June 15 1999.
Young children's voice. Martin Van Beynen. The Press, 22 February 2001.
Creator of 'remembered moments'. Tony Potter. Sunday Star Times, 25 February 2001.
Gwenda Turner 1947-2001. Trevor Agnew. Magpies, Volume 16, No. 2, May 2001.