One of New Zealand's newest and largest vessels arrived for the first time in its home port, Lyttelton, on Thursday June 28, 2007. This page details the construction of the vessel and links to further reading.
Construction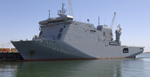 HMNZS Canterbury was commissioned on 12 June 2007 in Melbourne, at a ceremony attended by the Royal New Zealand Navy, The New Zealand Defence Force, as well as Prime Minister Helen Clark and representatives of Tenix, the company that built the ship, was held inside the hangar of the Canterbury where she was formally handed over to the Navy. The vessel will give the Navy "tremendous capabilities" Chief of Navy Rear Admiral David Ledson said.
Ashburton-born commanding officer of HMNZS Canterbury, Commander Tony Millar (pictured), said the crew had worked hard to get the frigate ready for its maiden voyage.
The ship's company can be rightly proud of all of the work they have put in, and all they have accomplished in such a short period.
Commander Millar said the commisioning was a day of firsts.
It was the first time that New Zealand has taken delivery of a ship with such capability; it was the first time her new crew had moved onboard and it was the first official duty onboard the Canterbury for our sailors.
We now have full possession of this magnificent new ship … and it feels great, he said.
HMNZS Canterbury's later visited Timaru between 4 and 6 July before arriving at the Devonport Naval Base, the home of the Navy, in late July. HMNZS Canterbury replaces the leander class frigate Canterbury F421, which was decommissioned in 2005, and sunk in the Bay of Islands.
The multi-role Vessel Canterbury is the first of seven new ships built for the Royal New Zealand Navy under Project Protector. She is affiliated to the Canterbury region.She was built at the Merwede Shipyard in the Netherlands, under contract to Tenix.
Canterbury's design is based on a commercial "roll-on, roll-off" ship, Ben-My-Chree in operation in the Irish Sea.Roll-on, roll-off ships carry wheeled cargo using built-in ramps allowing the cargo to be "rolled on" and "rolled off" the vessel.
Canterbury will have diesel-electric propulsion and a maximum speed of just over 19 knots. She will provide a sealift capability for the transport and deployment of equipment, vehicles and personnel, and capable of transferring cargo and personnel ashore in benign conditions (up to sea state 3) when port facilities are not available. Canterbury has two 59-tonne Landing Craft Medium (LCM) capable of carrying 50 tonnes at 9 knots with a range of 250 nautical miles.
Facts and figures
Particulars of Canterbury: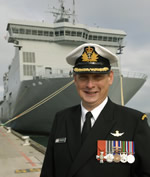 Displacement: 9000 tonnes
Length overall: 131 metres
Beam: 23.4 metres
Speed: 19 knots
Complement: Core ship's company: 53
Flight personnel: 10
Government agencies: 4
Army ship's staff: 7
Trainees: 35
Troops: 250
Total: 360
Propulsion: Diesel engines
Flight deck: Space for two helicoptersArmament: 25mm and two .50 calibre machine guns
Helicopter capability: The NH90 Helicopter has been selected as the NZDF's preferred medium Utility Helicopter to replace RNZAF'S Iroquois. Up to four NH90's can be carried onboard the MRV for deployment ashore in support of Army operations and disaster relief activities.The MRV is also capable of operating the SH-2G Seasprite and the helicopter deck is able to handle a Chinook-size helicopter.
Royal New Zealand Navy resources
Our online resources
Our guide to finding records of Royal New Zealand Navy personnel who fought in World War 2.
Browse the resources in our libraries
Wright, M. Blue water kiwis: New Zealand's naval story

A useful, well-illustrated introduction. Ch. 4: Second World War; Ch. 5: Pacific crisis, 1941-5.
New Zealanders who took part in the Battle of the Atlantic, as servicemen in the Royal New Zealand Navy, the Royal New Zealand Air Force and the New Zealand Merchant Navy. Also discusses those who served in the Royal Air Force and Coastal Command.

Waters, S.D. The Royal New Zealand Navy

Official war history. Read an on-line edition of this book at NZETC New Zealand Official War Histories.
For further information on New Zealand's naval history, you can search the library's catalogue: