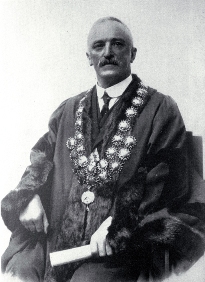 James Arthur Flesher was a lawyer who was widely involved in local affairs and became Mayor of Christchurch from 1923 to 1925.
Early years
James was the son of early colonists, William and Dorothy Flesher. He was born in Christchurch on 13 August, 1865. He entered the legal offices of Messrs Wilding and Lewis, having been educated at Christ's College, and after four years moved to the office of Messrs Joynt and Acton-Adams. He was admitted as a solicitor in 1898, and when he started his own legal firm the following year, he was admitted as a barrister.
Local government career begins
In 1893, James' connections with municipal affairs began when he was elected to represent the Richmond Ward on the Christchurch City Council. From 1915 to 1917 he was Mayor of New Brighton Borough. He was also appointed borough solicitor in 1918, a position he held until his death. In 1918 he was again elected to the Christchurch City Council and he became Chairman of one of the most important committees, the By-laws and Finance Committee. He remained a councillor till 1920, and in 1923 he was elected Mayor of Christchurch, a position he held for two years. In 1928 he was yet again elected to council and remained a councillor until his death in 1930. He was also elected to the Christchurch Tramway Board in 1906, was Chairman from 1913 - 1916, and was still a member of the board at the time of his death.
Other community work
Other local bodies of which Mr Flesher was a member were the Christchurch Domains Board, the Waimakariri River Trust, Richmond Domain Board, and the Richmond School Committee. Other organisations of which he was a member were, the McLean's Institute, Avon Licensing Committee, and the Christchurch Musical Society. He was also a staunch member of the Red Cross, the St John Ambulance, and the Canterbury Pilgrims Association. James also must have played a prominent part in the establishment of the Richmond Methodist Church, as his name appears on the foundation stone thus James Flesher, May 4th, 1886. His obituary said: " it was not the length of his public service, long as that was, or the number of positions he occupied, many as they were, that gave him his conspicuous place among the public men of the city, but the force and capacity that he constantly exhibited. He had the command of fact and the clear view of his object which keeps discussion to the direct and useful line."
Avebury House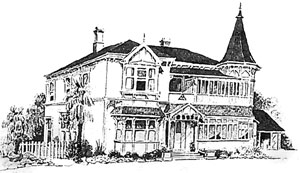 Avebury House, his residence, was designed by architect James Glanville, and completed in 1885. William, James's father originally bought the 25 acres that extended through to Medway Street, and James inherited this property on his father's death. The substantial Victorian house included a large verandah, service wing at the rear, and a tower. Other embellishments were added just after the 1906 Great Exhibition. After James's death it passed to his son Herbert, who in 1945 sold Avebury and eight acres to the crown. In 1951 the house and land were transferred over to the Christchurch City Council and the Citizens of Christchurch for recreational use. The house became the Cora Wilding Youth Hostel, and the land a park. In 1997 the youth hostel closed and Avebury was threatened with demolition. Fortunately the Council decided to restore the grand old house and restoration work is being carried out.
After a long illness, James died in 1930 at the age of 65 years and was buried in the Avonside Anglican Cemetery. He was survived by his wife, Margaret Lucy Flesher, son, Herbert de R Flesher, and daughter, Mrs F M L Sheppard.
A deserving honour was bestowed upon him for his involvement in the community and civic affairs - this took the form of naming a street after him, Flesher Avenue.
Sources
Council split over call to pull down 115-year-old house. The Press, 13 November 1999, p8.
Cyclopedia of New Zealand: industrial, descriptive, historical, biographical facts, figures, illustrations. Cyclopedia Co, Wellington 1897 - 1908.
Mair, A. J. More homes of the pioneers and other buildings. Caxton Press, Christchurch, 1974.
Obituary. The Press, 19 August 1930, pp 10 - 11.