Early Shirley Resident
James Rowe, farmer and miller, was born in Helston, Cornwall in 1845. He arrived in New Zealand in 1874 on the Isles of the South at the age of 29. Having disembarked in Lyttelton with his wife, James opened a grocery store in Christchurch on the corner of Madras and Peterborough Streets, a business he operated for 23 years.
Four years after arriving in the colony he purchased 11 acres of land at Shirley, moved into the area, and began breeding pigs and in the process became known as 'Piggy Rowe'.
New Brighton Road in the north and Coopers Road in the south were the boundaries to the 11 acres. He called his homestead Windsor Park and it still stands today in Ajax Street. It is thought that the Rowe homestead's name is how the area Windsor came about. Some said it was through the royal family but the dates do not match, as the area Windsor existed long before the royal Windsor came into being.
James devoted his attention to pig breeding and developed a stud of note. He farmed purebred Berkshires and Yorkshires, importing from the best English strains. He became so successful with breeding that he carried off most championships and principal prizes throughout New Zealand and Australia. Locally he won the President's Cup from the Canterbury Agricultural and Pastoral Association.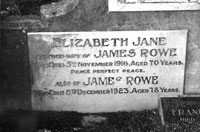 James had a substantial involvement in local government. In 1899 he was selected for the city council for the North-East Ward and served for three years.Time was also served on the Avon Roads Board, New Brighton Borough Council and the Waimairi County Council. Not only did he involve himself in local body affairs, but he was also a founding member of the new Methodist Church in Shirley to which he donated a new Sunday School building in 1928. He was also involved with the Canterbury Agricultural and Pastoral Association.
James Rowe developed pneumonia after surgery and it proved to be fatal. He died in 1923, his wife having predeceased him in 1916. They left no family. James rests in the Linwood Cemetery. Rowe Place in Shirley bears his name.
Sources
Cyclopedia of New Zealand. Vol 3 Canterbury: industrial, descriptive, historical, biographical facts, figures, and illustrations. Cyclopedia Co. Wellington, New Zealand 1897-1908.
The Press, Mr James Rowe, 17 December 1923, pg 14.
Walsh, George. Richmond, Christchurch: a regional history, Christchurch 1973.