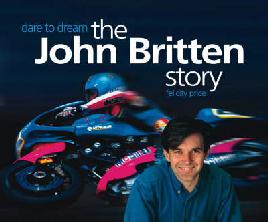 Born: 1 August 1950, in Christchurch
Died: 5 September 1995, in Christchurch
Early life
John Britten's parents were Bruce and Margaret Britten. He had a twin sister Margueritte, and an older sister Dorenda.
When he was a young boy he began making go-karts out of old packing cases. By the time he was twelve, he had saved enough money to buy a petrol motor and build his first motor-powered go-kart. When he was thirteen he and a friend restored an old Indian Scout motorcycle they found in a ditch.
Despite suffering from a reading disability, after leaving St Andrews College in 1968 he completed a mechanical engineering course at night school.
Adult life
Britten worked for some time as a cadet draughtsman at ICI, getting experience in mechanical engineering designs. After working and travelling in Europe he returned to New Zealand and worked as a design engineer, designing off-road equipment and heavy machinery.
In 1976 Britten began a small business designing and making stained glass and hand-made glass lighting. At the same time he began converting the stables at Mona Vale, a historic homestead in Christchurch, into a home. He also began racing historic motorcycles.
In 1982 John Britten married Kirsteen Price, a model. They had three children, Sam, Isabelle and Jessica. Britten joined his family's property development company. One of his projects was a twelve storey apartment building overlooking Hagley Park, completed in 1990. He pushed for the extension of the restored Christchurch tramway east of Cathedral Square through New Regent Street. He planned to build a shopping precinct from Gloucester Street to Worcester Street on either side of the tramline.
In his spare time Britten had begun working on motorcycle designs. In 1992 he set up the Britten Motorcycle Company, working from his garage workshop at home. His Britten V1000 and V1100 were successful in a number of races. One of Britten's greatest triumphs was in August 1995 when Andrew Stroud won the world individual BEARS championship on one of the Britten racers. The Britten bike also set world speed and acceleration records on the South Eyre Rd in Canterbury in 1993, topping 304 km/h in one direction.
On 5 September 1995 in Christchurch, John Britten died aged 45 after a short illness as a result of a malignant melanoma.
Superbike
In 1986 John Britten decided to redesign his Ducati race bike by building his own bodywork for it. This and other attempts did not work, so he decided to build his own bike from scratch, including the motor, working in his garage at home. He made the body out of carbon fibre, which is light but very strong. There was no frame, with parts bolted directly onto the engine. The engine was designed to have better air and fuel flows so that it would have more power. He later developed engines with different cc ratings for different bikes because some races allow a higher rating - BrittenV1000 and BrittenV1100.
John Britten worked on a trial and error basis, without the huge amount of research and development money that the big established motorcycle companies have to invest.
Part of this process meant gluing pieces of wire together to make a frame from which moulds for the bike's bodywork were made. Years of trials and mixed success in races were finally rewarded in August 1995 with the world BEARS championship win, shortly before Britten's death.
For his design work Britten was made an Honorary Fellow of the NZ Engineers Institute and awarded an Entrepreneurial Engineer Award after his death. Ten Britten bikes had been planned before he died, and these were completed after his death. Some are still racers, while others have been put in museums, including one in Te Papa.
BEARS (British, European and American Racing Series)
In the early 1980s John Britten and some friends were unable to take part in a Ruapuna race for Japanese motorcycles. They started their own club at Governors Bay instead. This was the beginning of the British, European and American Racing Series or BEARS. They started building V-twin 750 cc motorbikes to race in it. Japanese bikes were not allowed. Race clubs throughout the world picked up on the idea and by 1995 there was a world series with 11 rounds.
Sources and more information