Kate Sheppard is recognised as the leader of the fight to win the right for New Zealand women to vote. She and other pioneering women campaigned so effectively that in 1893 New Zealand became the first self-governing nation in the world to grant the vote to all women over 21.
Kate was also involved in the Women's Christian Temperance Union, founded the National Council of Women, established the first women owned newspaper in the country and was a pioneering cyclist.
Early life
Katherine Wilson Malcolm was born in Liverpool, probably on 10 March 1847. Her parents Jemima Crawford Souter and Andrew Wilson Malcolm were Scots and moved from Liverpool to London and back to Scotland where she was educated. Christened Katherine, she was always known as Kate. She received a strongly religious upbringing and a good education for a woman of her time.
Her father died in 1862 and in 1869 Sheppard came to New Zealand with her mother, two brothers and a sister. They arrived at Lyttelton on February 8 1869 on the Matoaka. Another sister, Marie Beath, was already living in Christchurch.
Marriage
On 21 July 1871, when she was 24 years old, she married Walter Allen Sheppard who was a prosperous grocer and general merchant 12 years her senior. He had been a Christchurch City councillor in 1868. They had one son, Douglas, born in 1880.
She was an active member of the Trinity Congregational Church and became involved in temperance activities. In 1885 she became a founding member of the New Zealand Women's Christian Temperance Union. The union realised that if women had the right to vote and representation in parliament it would be easier to achieve social and legislative reforms concerning temperance and the welfare of women and children. In 1887 Kate Sheppard was appointed national superintendent of the franchise and legislation department of the Union.
In 1888, Kate Sheppard and Walter moved to a house they had built (which still stands) at 83 Clyde Road. This remained their home until 1902 and was a regular meeting place for suffrage campaigners. Her sister Isabella and her brother Frank lived nearby. Sheppard also became a pioneering cyclist becoming involved with the Atalanta women's cycling club which was formed in August 1892.
Votes for Women
The movement for women's rights which began in the late 19th century was concerned with two main issues: equal political rights for women and social reform particularly dealing with the abuse of alcohol and its consequences for women and children. At the time that Kate Sheppard became involved there was already support in New Zealand for women's suffrage.In 1873 women rate-payers were given the right to vote in local body elections and in 1877 women "householders" (that is, all adult women) were given the right to vote in and stand for school committees and education boards. Leading politicians including John Hall, Robert Stout, Julius Vogel, William Fox and John Ballance supported the cause.
In 1878, 1879 and 1887 bills or amendments extending the vote to women (or at least female ratepayers) only narrowly failed to pass in Parliament. Men over the age of 21 were given the right to vote in 1879.
Kate Sheppard's campaign
Kate Sheppard co-ordinated and encouraged the work of local unions. She organised petitions to Parliament asking for women to have the right to vote and persuaded Sir John Hall, a leading member of Parliament, to support them. She wrote a pamphlet called Ten reasons why the women of New Zealand should vote to support the campaign.
She was an excellent public speaker and writer with strong humanitarian principles and a sense of justice. She said:
All that separates, whether of race, class, creed, or sex, is inhuman, and must be overcome.
Her younger sister Isabella May was also heavily involved in the Women's Christian Temperance Union and accompanied Sheppard to her speaking engagements.
Despite the defeat of the suffrage bills in Parliament in 1888, 1891 and 1892, she continued the campaign for the vote, using public meetings and letters to the newspapers to gather support. Her last petition was the largest ever presented to Parliament and had nearly 32,000 signatures. The Women's Christian Temperance Union had 600 members throughout the country and parliament could no longer ignore their demands.
Success
The Electoral Act 1893 giving women the right to vote was passed on 19 September. Kate Sheppard received a telegram from the Premier, Richard Seddon, conceding victory to the women. The governor, Lord Glasgow, recognized her leadership by presenting her with the pen with which the bill had been signed.
On 19 September 1893 women were finally given the right to vote in elections. When the general election was held ten weeks later, 65% of New Zealand women over 21 voted.
New Zealand had become the first country in which all women had the right to vote.
Kate Sheppard keeps campaigning
She later travelled overseas to England and America to help the campaigns there. In 1895 she became the editor of the first newspaper in New Zealand to be owned, managed and published only by women. It was called the White Ribbon.
She established the National Council of Women in April 1896 and continued to argue for women's rights, especially the right for married women to have control of their own money. She encouraged women to become involved with society and politics and she continued to campaign to make things better women and families in particular. Her political philosophies included proportional representation, with non-party affiliation; the initiative and referendum, giving the public the right to initiate or veto legislation; and the elective executive, where cabinet ministers would be elected by all members of Parliament.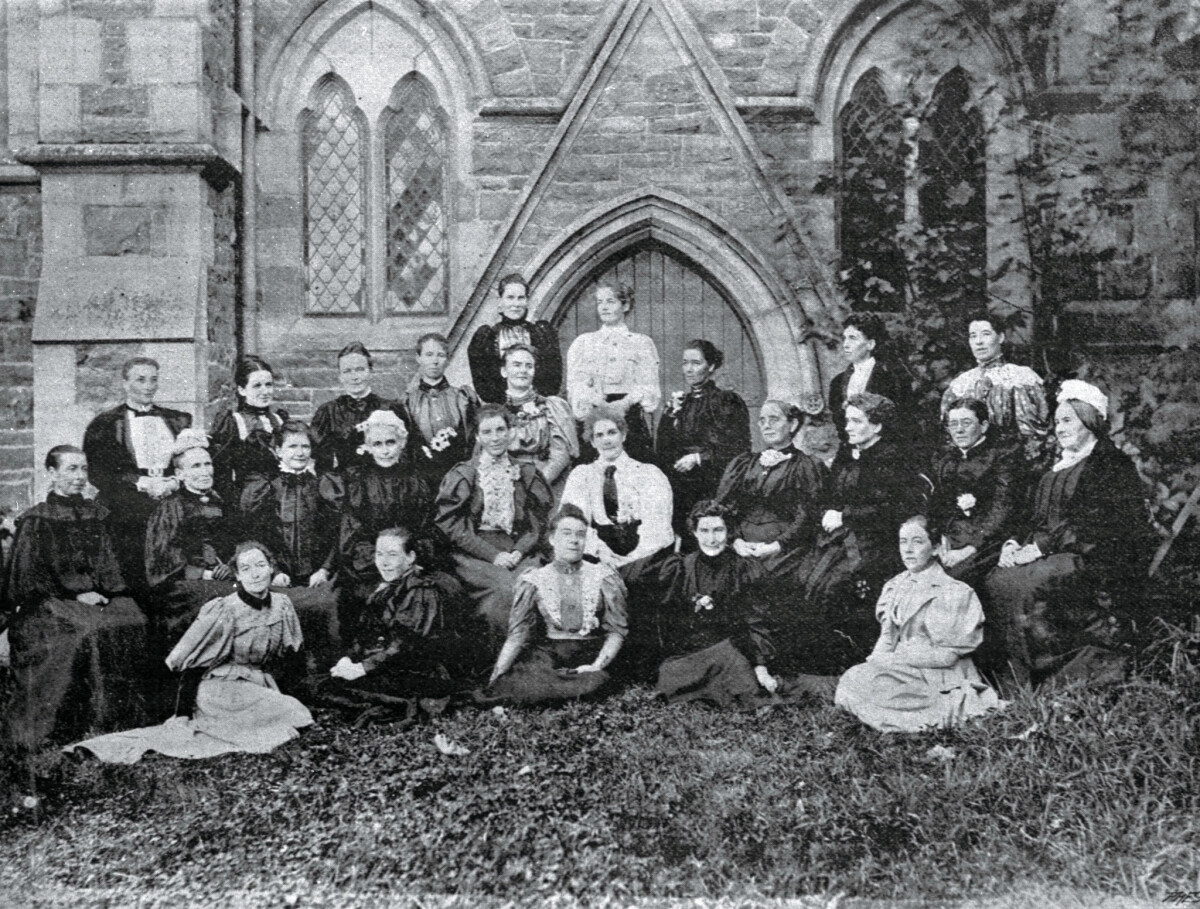 Later life
Kate campaigned most actively between the years 1887 and 1902. Health issues for herself and her husband caused her to withdraw from active campaigning although she continued to support the WCTU and her causes with writing and advice.
Her husband Walter died in Bath, England on 24 July 1915. Her son Douglas had died in 1910. In 1925, aged 78, Kate married William Sidney Lovell-Smith, an old friend and supporter of women's suffrage.
Her only grandchild, Margaret Isobel Sheppard, died in 1930. Kate died at her home in Riccarton on 13 July 1934. She is buried at Addington cemetery with her mother, a brother and a sister. The Christchurch Times reported her death in simple appreciation:
A great woman has gone, whose name will remain an inspiration to the daughters of New Zealand while our history endures.
The Kate Sheppard Memorial was unveiled on 19 September 1993 to commemorate the 100 years since New Zealand women won the right to vote.
Summary
Kate had a strong sense of responsibility towards other people, especially those in need. She devoted her life to making things better for women and families in particular.
Kate believed women should take part in society and politics, rather than stay in the home and she believed that woman could not make any of the changes needed in society without first winning the right to vote. Without Kate's drive and energy the campaign to win the vote for women would probably not have succeeded as soon as it did.
Recommended resources
Library resources
Related pages
Other websites
Te Whare Waiutuutu Kate Sheppard House
Te Whare Waiutuutu Kate Sheppard House and gardens have been cared for by Heritage New Zealand Pouhere Taonga since late 2019.
Sheppard, Katherine Wilson 1847 - 1934
Malcolm, Tessa K, Dictionary of New Zealand Biography.
Kate Sheppard
NZedge page about Kate.
New Zealand women and the vote
New Zealand History online.