The building on the corner of Hereford Street and Cambridge Terrace, later known as Library Chambers, was the home of the Canterbury Public Library for over one hundred years, until the Library moved to a new building in Gloucester Street in 1981.
Canterbury Public Library building,  Circa 1903-1907 (before the YMCA was built on the other corner in 1908). Postcard Maoriland Series, Tanner Bros 518
The architects
The original part of the building, a finely detailed rectangular structure in the Venetian Gothic style, was designed by a leading provincial architect, William Barnett Armson, and opened in 1875. It replaced a wooden building built in 1863. Significant additions to the original building were completed in 1901 and again in 1924, both designed by the Christchurch architectural firm of Collins and Harman (formerly Armson, Collins and Harman until the death of W.B. Armson in 1883). The detached former Librarian's House was one of the few brick townhouses of the 1890s to survive in the inner city and complemented the main building.
The Hereford Street library reflected its Victorian origins with dark panelling, gas lighting and a formal atmosphere. As the library service expanded the building was modernized as best as possible:
1914 electric lighting,
1924 a new wing with a separate children's library,
1951 renovations to include a new children's library, reference library and enlarged lending library,
1956 the gallery filled in to create the New Zealand room,
1970 a mezzanine floor added and, the final desperation — a prefabricated annex.
A succession of innovative and energetic librarians refused to let the constraints of the building hold them back from offering new and exciting developments in service. These buildings remained the home of the Canterbury Public Library until 1982, when the library moved to new purpose-built premises on the corner of Gloucester Street and Oxford Terrace.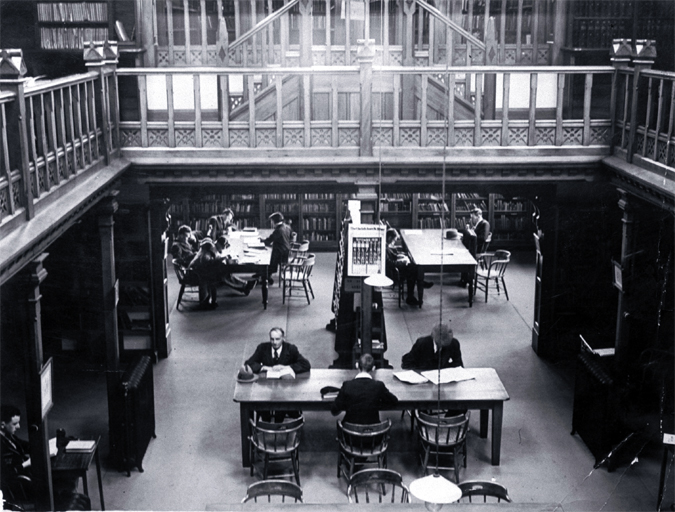 The ground floor Reference Library, Canterbury Public Library, 109 Cambridge Terrace, Christchurch
[193-?] CCL PhotoCD 8, IMG0018
Conversion to offices
At one stage threatened with demolition, the building and house was extensively renovated externally and converted internally for commercial use. The architect, D E Donnithorne, did much to preserve the original atmosphere by retaining the interior panelling and woodwork where possible or by matching it sympathetically where demolition was unavoidable.
The resulting high standard of accommodation was an interesting example of how an historic building which had outlived its original purpose could be converted to practical commercial use, while continuing to form part of the architecturally distinguished precinct along the banks of the Avon River which formed the western boundary of the inner city.

Canterbury Public Library exterior. Taken from across Cambridge Terrace, showing Postal Centre behind the Library and Police building on the left. Arch-52-PH-07-23
Earthquake casualty
Unfortunately the buildings sustained serious damage in the Christchurch earthquake sequence of 2010 and 2011, and were subsequently demolished.
More information
Related pages
Sources
This was originally derived from the Christchurch City Council handbook of 1998.