Location: 31 Butterfield Avenue (Entrance off Butterfield Avenue, next door to Bromley Park on Buckleys Road), Linwood, Christchurch 8062
Linwood Cemetery Map [655KB PDF]
This map was created by Christchurch City Council and will give a general reference to where a person is buried.
Early Linwood Cemetery Map [102KB PDF]
This is a different map taken from the New Zealand Society of Genealogists' transcripts book of Linwood Cemetery which enables surviving gravestones to be found.
Plot plans of the Linwood Cemetery in Canterbury Stories
A collection of 69 plot and block plans for Linwood Cemetery. The plans include the Church of England, Presbyterian, Wesleyan, Roman Catholic and re-sited Jewish sections.
Interments are listed in the Christchurch City Council Cemeteries Database.
Draft Linwood Cemetery Conservation Plan [2.18MB PDF]
A conservation plan for Linwood Cemetery has been prepared by Opus international consultants to provide Christchurch City Council with tools to restore and maintain one of the city's oldest cemeteries for future generations.
Linwood Cemetery Tour Guide [243KB PDF]
Guide based on cemetery tours that take place as part of annual Heritage Week events. The guides are from the research and notes of Richard L. N. Greenaway.
Brief History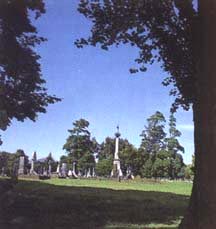 Linwood Cemetery, which was opened in 1884, was the first municipal cemetery of the Christchurch City Council, which at that time had its town belt bounded by the four avenues.
In keeping with international trends of the time, the Cemetery was located on the outskirts of the city, bounded by Butterfield Avenue, Hay Street, Buckleys Road and McGregors Road. It was deliberately established where it was thought the population would remain small and the supposed medical problems caused by a cemetery would be limited.
The cemetery is the fifth oldest surviving cemetery to be established in Christchurch and is an historical record of many early Christchurch residents. The nature of the cemetery means that it is thought that there is a wider cross-section of society buried there than at other Christchurch cemeteries and church graveyards of the nineteenth cemetery.
Linwood Cemetery is the resting place of many ordinary citizens of Christchurch and several notable New Zealanders including Bishop Churchill Julius, the second Anglican Bishop of Christchurch; Thomas John Edmonds and his wife Jane Elizabeth Edmonds of Edmonds Factory fame; and explorer Arthur Dudley Dobson. It has a Jewish section, including graves resited from the 19th century Jewish cemetery in Hereford Street.
Related