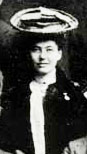 Mary Victoria Gibson was born in Lyttelton in 1864. With a mother strongly interested in education for her daughters, Mary and many of her sisters became involved in teaching and establishing schools for girls in Christchurch.
Mary's career
Mary graduated with a Master of Arts degree in English and Latin from Canterbury College in 1888, and began her teaching career at Sydenham School.
Mary later became the headmistress of the girls' department of Gloucester Street (now Christchurch East) School and predecessor of Miss Baldwin. In 1898 she became the headmistress of Christchurch Girls' High School, a position she held for the next 30 years. In her time as headmistress, she presided over the expansion and development of the school.
The 1906 New Zealand International Exhibition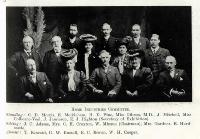 Along with other prominent women in Christchurch, Mary Gibson was invited to be a member of the Home Industries Committee, one of the organising committees of the 1906 New Zealand International Exhibition.
Later years
Mary worked as relieving principal at Waitaki Girls' High School in Oamaru. In 1929, she fell ill with pneumonia and died on 1 September. She is buried in the Waimairi Cemetery, Christchurch.
Sources
Related links