The homestead set in the grounds of Mona Vale was built 1897 for Frederick Waymouth, Managing Director of the Belfast Freezing Works. The house and lodge were designed by prominent Christchurch architect J C Maddison. Named "Kawera" by the Waymouths the property was purchased by Annie Townend in 1905 and renamed "Mona Vale".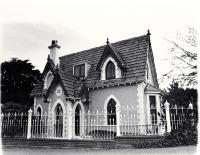 Annie Townend continued to develop the extensive grounds and built the gatehouse at the Fendalton Road entrance to the property. Mona Vale has had a number of owners over the years and in 1969 after public outcry at the possibility that the area would be developed it passed into public ownership.
Today the grounds, maintained by the Council, are open to the public and the homestead has been modified to act as a function centre.
More information
Sources
This was originally derived from the Christchurch City Council handbook of 1998.