Name: Janet Hunt
Date of birth: 3 September 1951
Place of birth: Stratford, Taranaki
Now living in: Waiheke Island
What is your favourite food?
Oysters!
Do you have a nickname and if so what is it?
I am sometimes called 'Jan' but nothing else that I know about!
What was your most embarrassing moment?
When I forgot to go to a friend's wedding (I'm almost too embarrassed to even write that down).
How do you relax?
Walk the dog, snooze, garden, watch TV, meditate, play the piano, play games, take photographs.
Who inspired you when you were little?
For one term, when I was eleven, I had a teacher whom I will never forget. He taught me about the magic in life. He was also wonderfully caring and dignified.
What were you like at school?
I loved school once I got used to it. I was very conscientious and hard-working (but not good at Maths). I read everything I could get my hands on, including books from the Big Kids' room.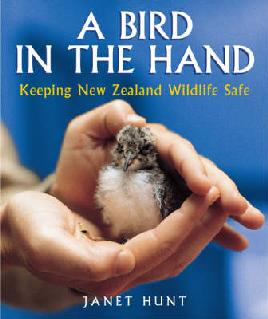 What was your favourite/most hated subject at school?
My favourite subject was Art. I loved to draw and paint. I also really liked reading, especially when we read plays from the school journals.
I didn't hate Maths, but I was a bit slow catching on to some things. I remember the teacher explaining over and over how to do long division… I didn't understand it until I came to teach it myself many years later.
What was the book you most loved as a child?
Now that is hard because I loved so many and read so many! The first book I ever owned was Noddy, by Enid Blyton, which I saved up and bought myself. My inspiring teacher (see above) read us Dr Doolittle, by Hugh Lofting, which was great, and I also loved animal stories of all kinds (especially horses) such as Tarka the Otter, by Henry Williamson, and a book about a hedgehog and a hare called The Gift of Magic.
Which person from the past would you most like to meet?
My great-great-great-grandmother, who was a Māori woman who lived on the East Coast sometime in the early 1800's and married a sea captain. Now that would be something!
Who is your favourite author/children's author?
Roald Dahl and Philip Pullman are both hot favourites, with Margaret Mahy, opens a new window and Maurice Gee, opens a new window close behind. My current favourite adult writer is J. M. Coetzee.
Why did you want to be a writer?
Because even when I was at school I was fascinated by the way putting marks on a page turns into meaning and the way meaning turns into stories. I always loved making books and reading books.
Do you have a special place where you write your books?
Yes, my room (which I sometimes call my office). I have a special little desk in there that I sit at.
What's the best thing and worst thing about being a writer?
The best thing is when other people enjoy your book. The worst is being distracted by a million other things when really I should be at my desk working hard!
If you weren't a writer, what would you like to be?
I am also a graphic designer, which is how I make my living. I enjoy being a graphic designer a great deal.
What advice would you give to aspiring writers?
Read as much as you can and take every opportunity that comes your way to write… for the school magazine, for the local newspaper, for your aunties, for your little cousins… and work hard at school! (Take notice of your teachers!)
Read some books by Janet Hunt
More information about Janet Hunt
Read posts featuring Janet Hunt from the Christchurch Kids Blog.
This interview is from 2005