In 1904 the Honourable John Peacock, a distinguished pioneer, businessman and politician, bequeathed in his will the sum of 1,000 "for the purpose of beautifying the reserves and gardens in the City of Christchurch and improving the Avon River."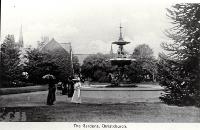 This money was used to purchase an ornate Edwardian fountain which was made in England and established in the Botanic Gardens on a site not far from where the Robert McDougall Art Gallery now stands.
In 1949 due to deterioration of internal parts the fountain was dismantled and placed in storage.
A number of unsuccessful efforts to have the fountain restored and re-erected were made. Finally, in 1993 renewed interest resulted in a project team being established and with Council and public funding support, it was able to ensure the fountain was fully restored and reinstated in the Botanic Gardens on a new site close to Rolleston Avenue. The total cost of the project was $270,000.
The fountain was officially recommissioned by the Mayor, Vicki Buck, on 26 May 1996.
More information
Sources
This was originally derived from the Christchurch City Council handbook of 1998.