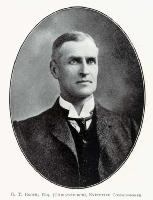 Industrialist and businessman George Booth was a well-known figure in Christchurch business circles in the late 1800s and early 1900s.
Early life
Born at Monkwearmouth, County Durham, England in 1858, Booth came to Christchurch as a baby in 1859. He was educated at Christchurch Boys' High School and Canterbury University College, and in 1882 was a founder of the firm Booth, Macdonald and Co., makers of agricultural machinery. By 1906 the firm employed over a hundred staff. Booth remained as managing director until his retirement in 1925.
Career
He was active in both public and commercial life, serving at various times as president of the Canterbury Industrial Association, the Canterbury Employers' Association and the Canterbury Chamber of Commerce. He was also instrumental in the formation of the New Zealand Employers' Federation, of which he was also president. He served on the Christchurch Tramway Board from 1904 until 1927 and was on the board of governors for Canterbury College from 1917 until 1923. Later he served on the Arbitration Court. He was mayor of Sydenham in 1890-1 and active in patriotic work during the first world war. He served on the committees of several industrial exhibitions in Christchurch.
New Zealand International Exhibition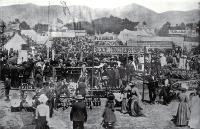 Following the resignation of Robert Allan in August 1906, Booth was appointed to the Executive Committee of the1906-07 New Zealand International Exhibition. It was hoped by the press and the public that he and William Reece, appointed at the same time, would be able to exert more control over the deeply unpopular government-appointed chairman, G.S. Munro. Munro's difficult relationship with Allan and the other commissioners had been widely publicised.
In fact, neither Booth nor Reece found Munro any easier to work with than those they replaced, and within months they too threatened to resign. This threat led the Minister in charge of the Exhibition, William Hall-Jones, to intervene. In mid-November 1906, he took over responsibility for the Exhibition decision-making himself, while Munro became general manager.
'Broad character'
Booth had wide-ranging interests. As a young man, he was "one of the best breaststroke swimmers of his time"1, an excellent diver and an enthusiastic rower. He was a keen reader and public speaker, and a regular contributor of articles to newspapers and magazines. His peers spoke of his experience and mature wisdom2, his clear insight, broad character and wide knowledge3 ; if he was going to say something, they suggested, it would be worth listening to.
In 1883, Booth married Margaret Jane Hall (1861-1928), and they had three sons and two daughters, born between 1884 and 1900. His unmarried daughter, Lyndall Margaret Booth, kept house for him after the death of her mother, and her care was recognised when he left his entire estate in trust for her use at the time of his death.
He and his family are buried at Bromley Cemetery.
Footnotes
Obituary, The Press, 30 December 1942, p. 4.
"Mr. G. T. Booth", The Press, 1 November 1906, pg. 8.
"Mr. G. T. Booth", The Press, 1 November 1906, pg. 8.
Sources
The cyclopedia of New Zealand : industrial, descriptive, historical, biographical facts, figures, illustrations, Vol. 3, pt. 2. pg. 384.
Mr. G. T. Booth, The Press, 1 November 1906, pg. 8.
Obituary, The Press, 30 December 1942, p. 4.
Read the biography of William Hall-Jones from the Dictionary of New Zealand Biography.