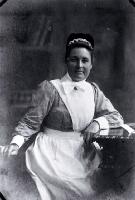 Nurse Maude - founder of the District Nursing Scheme
A pioneer of home care nursing, Sibylla Emily Maude became famous in Christchurch for her efforts to provide care for poor and elderly people throughout Canterbury. This page describes her life and career and the lasting legacy she created through the Nurse Maude District Nursing Association.
Early life
Sibylla Emily Maude was born at Hagley Lodge in Christchurch on 11 August 1862. Her parents were Thomas William Maude and Emily Catherine Brown. At the time of her birth, Sibylla's father was provincial secretary and a member of the Canterbury Provincial Council. In 1876 the Maude family went to England where Sibylla went to school. However, the family returned to Christchurch in 1879.
Career
Sibylla travelled to England in 1889 to train as a nurse. She was not an apprentice, instead choosing to be a Lady Probationer — paying for her own training so that she could be free to return to New Zealand and practise nursing.
Nurse Maude, as she became known, returned to New Zealand in 1892 and was appointed matron of Christchurch Hospital the next year. Nurse Maude tried to make changes in the way the hospital was run but her ideas were not implemented by the hospital. She decided she wanted to nurse rather than organise, and resigned in 1896. Her particular concern was the health of poor people, particularly the old and infirm, who were unable to pay for nursing care.
Beginnings of Nurse Maude organisation
Inspired by the work of the sisters of the Deaconess Institution (later the Community of the Sacred Name), who provided nursing care for the poor in their own homes. On 5 November 1896 Nurse Maude signed an agreement to begin district nursing in the city, supported by Lady Heaton Rhodes and later the parishes of St Michael's and Sydenham.
Converted Durham Street shop
She worked from a converted shop in Durham Street, where she could give out medicines, treat minor injuries and illnesses, and give clothes to the needy. Nurse Maude walked miles every day with her nursing equipment, and often lugging pans for cooking, cleaning and washing, because her patients did not own those things themselves.
Association formed
In 1901 the Nurse Maude District Nursing Association was formed. The uniform, which Nurse Maude wore constantly, was light blue, with white apron and dark blue cape and bonnet. Eventually enough money was raised to extend the nursing service and employ more nurses. First a horse and cart were given to her for transport, and later, bicycles were supplied to the nurses. Nurse Maude was also given a car which she drove around Christchurch.
Association building
A two-storey brick buidling was built on Madras Street in 1918-19, a gift from Sir Heaton and Lady Rhodes to the Nurse Maude Association. Nurse Maude lived in the building's upstairs flat until she died. The association used the building until 1973. The building was one of many in Christchurch damaged by the Canterbury earthquake of 2010.
McDougall Avenue hospice
Another donation — the McDougall family homestead known as Fitzroy — became the Nurse Maude District Nursing Association Hospice. The Nurse Maude Association continues to provide health services throughout Canterbury from its base on McDougall Avenue, Merivale.
Camps and epidemics
In 1904 Nurse Maude set up a camp at New Brighton for men suffering from tuberculosis, and another camp for women at Burwood in 1905. These camps were closed in 1910 when a new sanatorium, or hospital, was opened on the Cashmere hills. During the influenza epidemic that began in November 1918, Nurse Maude was put in charge of co-ordinating the nursing of the influenza victims.
Honours
In 1934 Nurse Maude was honoured with the OBE (Order of the British Empire), which she accepted only on condition it was presented to her in a private ceremony.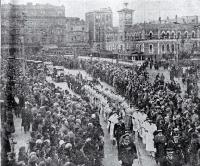 Death
In 1925 Nurse Maude suffered from a serious illness which forced her to give up direct nursing work. She died on 12 July 1935 in Christchurch. Large crowds went to her funeral and she was later remembered in two stained glass windows, one in the chapel in Christchurch Hospital, and another in the chapel of the Community of the Sacred Name.
Summary
The concept of district nursing or nursing at home was an English one which Nurse Maude first introduced to New Zealand.
She recognised the need for society to help the poor and ill, and through her district nursing scheme made this happen.
The Nurse Maude Association continues to provide health services today.
Sources
More information