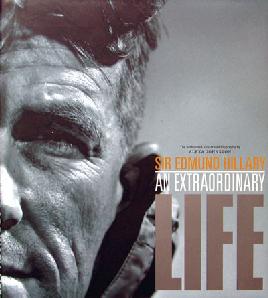 Sir Edmund made international headlines in 1953 when he became the first man to scale Mount Everest, the world's highest peak, along with Sherpa Tenzing Norgay. He famously said when breaking the news of the feat: We knocked the bastard off. Sir Edmund devoted much of his life to helping the Sherpas of Nepal's Khumbu region. He was made an honorary Nepalese citizen in 2003.
Early life
Edmund Hillary's parents were Percival Augustus Hillary and Gertrude Clark. He had an older sister, June, and a younger brother, Rex. He was born in Auckland, but his family moved forty miles south to a farm near Tuakau before Rex was born. Hillary's father established a weekly newspaper there, the Tuakau District News, and became its managing editor. Later he became a bee keeper.
As a boy Hillary enjoyed reading adventure stories, which he would read late into the night. Edmund Hillary went to the local primary school in Tuakau, then to Auckland Grammar, travelling there by train every day. He had his first experience of the mountains while at secondary school, when he went on a class trip to Mount Ruapehu.
Hillary went to university for two years but then left it and joined his father and brother in the beekeeping business.
Adult life
Hillary climbed his first mountain, Mount Olivier in the Southern Alps in 1939.
He joined the air force in 1943 and trained to be a navigator. He spent his spare time climbing whenever he could. In 1945 Hillary was sent to Fiji and the Solomon Islands. After a boating accident in which he was badly burnt, he returned to New Zealand.
He spent the next few years climbing in the Southern Alps as much as he could, including the highest mountain in New Zealand, Mount Cook (3764 metres). In 1949 Hillary travelled to Europe and climbed in the Austrian and Swiss Alps.
Mount Everest
Mount Everest is the highest mountain in the world, reaching a height of about 9 kilometres above sea level, or approximately 8,882 metres. It is one of the mountains on the Himalaya Range, on the frontiers of Tibet and Nepal. It was named after Sir George Everest, a British surveyor in India. It is known by the Tibetans as Chomolungma, and by the Nepalese as Sagarmatha.
A long-time climbing companion, George Lowe, invited him in 1951 to join a New Zealand expedition headed for the Himalayas. The three-men team climbed ridges on the Tibetan border of the Himalayas that had not been climbed before, and gained a reputation as skilled climbers. Hillary also used the trip to get to know the local people, the Sherpas, and to experience climbing at altitudes of over 6,000 metres. Later that year Hillary joined a team led by Eric Shipton, to explore the south-western side of Mount Everest, the highest mountain in the world, and look for a possible route up to the summit.
Everest Summit Expedition
In 1953 Hillary was invited to join a British Everest expedition, led by Colonel John Hunt, in an attempt to make it to the summit. The expedition was made up of nine climbers, including Hillary and his fellow New Zealander, George Lowe and a Sherpa climber, Tenzing Norgay, as well as a doctor, a cameraman, thirty-four Sherpas, and three hundred and fifty porters to carry their equipment and food.
A base camp was set up in March 1953 at Solu Khumu in Nepal. The climbers made their way slowly up the mountain, a party in front setting up a relay of camps where food and shelter would be ready for the main party.
Equipment and food
The British Himalayan Committee who had planned the expedition had decided that the only way to get to the top of Mount Everest was to send a large team with modern equipment, including oxygen and breathing apparatus. The air is very thin at high altitudes and it had been discovered that the use of oxygen made it easier for climbers to breathe. But this meant that hundreds of porters were needed to carry the oxygen tanks and other heavy equipment.
The Committee also decided that the climbers should use easily digested food that contained a lot of calories to keep them warm in the sub-zero temperatures, and lots of fluids so that they did not dehydrate. The expedition took food such as sardines, canned meat, soup, crackers, oatmeal, raisins, nuts, chocolate, sugar, tea, coffee, and lemonade. Edmund Hillary's pack weighed about 27 kg, one of the heaviest loads ever carried on Everest. By the time he and Tenzing had reached their last camp they were carrying about 18 kg (today's climbers carry about 7 kg).
A final camp was set up on the South Col, at 7,900 metres. On 26 May two climbers tried to reach the top, but failed. On 28 May Hillary, Tenzing and three other climbers moved up the mountain carrying oxygen cylinders and other equipment. Hillary and Tenzing pitched a tent at 8,500 metres while the other climbers went back down the mountain. Hillary left his boots outside the tent and found them frozen solid the next day.
The next morning, 29 May 1953, was clear and fine, and after Hillary had spent two hours thawing out his boots over the camp stove, he and Tenzing began the last climb, reaching the top by 11:30 am. They spent about 15 minutes there taking photographs and looking for any signs of an earlier expedition, led by two British climbers, Mallory and Irvine. Hillary left a small crucifix on the summit, and Tenzing left an offering of food. They then climbed back down, finally arriving at the South Col camp later that afternoon.
Mallory and Irvine
George Mallory and Andrew Irvine were members of an expedition to Everest in 1924. The main party climbed to within 900 metres of the summit, and Mallory and Irvine attempted the final section alone. They were never seen again. In 1933 an ice-pick was found at 8,400 metres but no evidence that they reached the top. In 1999 a British expedition to find their bodies and a camera supposed to be on Mallory's body, failed to establish for certain that the pair were the first to climb Everest.
Hillary was met by George Cole, and uttered his famous words — Well, we knocked the bastard off!
Hillary was given a knighthood for his achievement, and on his return to New Zealand married Louise Rose and settled down to beekeeping again. Their son Peter was born in 1954, and a daughter Sarah in 1955.
Exploration after Everest
In 1955 Sir Edmund Hillary was asked to join a British expedition that planned to cross the Antarctic using tractors, and would be led by the British explorer, Dr Vivian Fuchs. Hillary's job was to set up a series of food and fuel depots from the Ross Sea to the South Pole, to help the expedition's crossing from the other side.
While making his preparations, Hillary decided to increase the number of tractors used, and train dog teams. He sailed with his team for the Ross Ice shelf on 20 December 1956, and wintered over at the newly-established Scott Base.
Next spring, Hillary and his party began the task of setting up the depots for Fuchs along the route he would take coming across the continent by way of the South Pole. Once close to the Pole, Hillary and four of his team decide to travel the extra distance to the Pole on Ferguson tractors that had been specially adapted. They arrived on 4 January 1957, 16 days before Fuchs. Together they completed the journey back to Scott Base.
Hillary returned to New Zealand and his family. Another daughter, Belinda, was born.
Hillary and Nepal
In 1960 Hillary led an expedition that combined a hunt for the mythical yeti and research into the effects of high altitudes on the human body. Yeti skins turned out to be from the Tibetan blue bear, and attempts to climb one peak without oxygen failed, but after spending time with the local people, Hillary came back with a new objective — to build the Sherpas a school.
Between expeditions, Hillary became more and more involved in work to help the Sherpa people, and improving services such as schools and hospitals in the mountains. The Himalayan Trust was set up in 1964 to help this work. Over thirty years Hillary helped build 20 schools, two hospitals, several medical clinics, and two airfields. He became known as "Burra Sahib" or "great man".
Hillary was in Nepal in 1975 when news arrived that his wife and daughter Belinda had been killed in a plane crash.
In September 1978 Sir Edmund Hillary led an expedition up the Ganges River in India by Hamilton jetboat to find the source of the sacred river. Forced to leave the boats at a waterfall, they continued on foot, but when they attempted to climb one mountain peak, Hillary had to give up because of altitude sickness.
In 1984 Sir Edmund Hillary took up the position of High Commissioner to India, a post he held until 1989.
In 1987 Tenzing Norgay died. Just before his death he had written a biography in which he told for the first time that it was Hillary who had reached the top of Everest first.
During his time in India, Hillary also worked on educating the Nepalese about the need for conservation. The Everest region suffered from the impact of tourism, as thousands of climbers and trekkers abandoned their rubbish and equipment on the mountains, and trees were cut down to provide cheap fuel. Hillary has suggested closing the mountain for five years to give it a chance to recover.
In 1987 Sir Edmund Hillary was one of the first to be made a member of the Order of New Zealand, a newly-created honour which is now New Zealand's highest honour, and is limited to only 20 people at a time.
In 1990 Hillary married June Mulgrew.
In 1995 Queen Elizabeth II awarded Sir Edmund the Order of the Garter.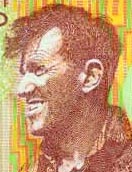 Since 1990 Sir Edmund appeared on the New Zealand five-dollar note.
Sir Edmund and Lady Hillary continued to work for the people of Nepal through the Himalayan Trust. His son Peter has established his own reputation as a climber and adventurer, and has made the ascent to the top of Everest twice.
In 2002 the New Zealand government set up the Sir Edmund Hillary Trust to acknowledge Sir Edmund's achievements, celebrate the 50th anniversary of the first ascent of Mount Everest, and raise funds to continue his work. The Trust supports groups and organisations helping young people take part in outdoor activities in New Zealand, and also organisations which protect and promote the New Zealand natural environment.
In May 2003 Sir Edmund returned to Nepal for the festivities commemorating the 50th anniversary of his climb. Because of his health he is no longer able to make the trip to Everest Base Camp.
On May 29, 2003, a bronze statue of Sir Edmund Hillary was unveiled outside The Hermitage, Mount Cook, looking out to the mountains Hillary climbed. On the same day, the official 50th anniversary of the first ascent of Mount Everest, the Prime Minister of Nepal gave Sir Edmund a certificate making him an honorary citizen of Nepal.
Sir Edmund Hillary's death
Sir Edmund died in Auckland on Friday 11 January, 2008 aged 88. Flags were flown at half-mast on the day of his state funeral (22 January 2008).
The funeral was broadcast in full by TVNZ on Tuesday, January 22. The funeral took place at both Auckland's Holy Trinity Cathedral and St Mary's Church in Parnell, with Christchurch Cathedral's Peter Beck leading the service. Large screens relayed the broadcast to the public in Auckland Domain.
Sources
More information
Library resources
National Geographic magazine have run several stories about Sir Edmund since the Everest summit conquest — you can access these in their original format through the eResources.
Listen to a 1974 interview with Sir Edmund about Mountain Climbing and the Everest expedition from our Smithsonian Global source. Use at a library or enter your library card & password / PIN.

Online resources
Reports of Hillary's death
Search Papers for local news stories about Sir Edmund Hillary.
Books written by Sir Edmund Hillary