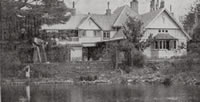 The hospital is pictured in 1940, the year a new wing was opened.
The house, called Mill House, was originally one of the buildings attached to Wood's flourmill. Richard Allen (1861?-1930) purchased the mill in 1896, operating it as the Riccarton Roller Flour Mills. He sold the business to Messrs Fleming & Co Ltd in 1918 but lived on in Mill House. His widow Beatrice (d. 1952) is listed in street directories as living in the house in 1938.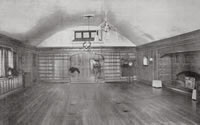 In 1940 it is the Te Kohanga Obstetric Hospital but by 1943 it is the Courtney and Pearson Obstetric Hospital, taking the name of the two women running it. The same year it is also listed as the School for the Deaf, being a branch of the Sumner School for Deaf Children. In 1942 27 day pupils and their teachers had moved there, followed later in the year by some boarders.
<p">In 1947, the then owner, Tracy Thomas Gough (1887-1954) offered Mill House and four acres of land (and also his own home Mona Vale) to the Christchurch City Council, for an annual peppercorn rental of 1 shilling, for use as a permanent Vice-regal residence or a home for distinguished visitors. In 1948 he offered it to the Christchurch City Council as accommodation for the King and Queen and Princess Margaret during a proposed visit in 1949 which actually never took place.
Street directories 1947-1950 list 25 Fendalton Road as the Governor-General's Christchurch residence although according to Gough's obituary his offer was never taken up. An article in The Press in August 1960 says that instead he had converted the house into flats for use by his staff. In 1958 Gough, Gough and Hamer Ltd sold the whole of the Mona Vale property, including Mill House, to the Mormon Church which held church services there. In November 1959 the house was extensively damaged by fire and demolished.
Plans for a replacement building to be built on the 4 acre Mill House site which had now been subdivided off Mona Vale were announced by the church in December 1959. The new chapel was opened November 1961.
Sources
"Mr Richard Allen", The Press, 27 June 1930, p 21
"[Mill House and Mona Vale]", The Christchurch Star-Sun, 9 March 1948, p 1
"Mr Tracy Gough", The Press, 4 June 1954, p 12
"Fendalton chapel for Mormons", The Press, 16 December 1958, p 16
"Mill House badly damaged by fire", The Press, 10 November 1959, p 12
"Mormon church's building plans", The Press, 10 December 1959, p 14
"Mormon chapel to be built at "Mona Vale", The Press, 2 August 1960, p 14
"Work to begin on new Mormon Chapel", The Press, 23 August 1960, p 16
"Opening of the Latter Day Saints' Chapel", The Press, 10 November 1961, p 18
"Latter Day Saints' Church opened", The Press, 11 November 1961, p 14
Fendall's legacy, p 157-