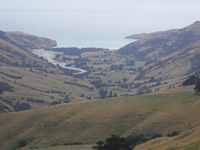 Location
Situated in a quiet bay/headland and on an offshore island two kilometres southeast of Okains Bay is the Pā Bay — Pā Island settlement area. This combined site contains two pā, two villages and a garden and is thought to have been occupied over a long period with the main occupation period being during the 1820s. The raiding expeditions of Te Rauparaha in 1830 marked the end of occupation of this extensive complex.
Te Kopuru — Pā Bay
Like many other headland pā on Banks Peninsula, Te Kopuru had steep cliffs on three sides and a
ditch-wall system on the mainland approach. A stream running through the pā assured the inhabitants of a water supply when the pā was used for defence purposes.
The village and pā accommodation suggests a local population of 250 to 350 people. Within the defended pā area there were 25 houses indicating that 100 people could easily be accommodated there with many more during times of war.
Food resources
Nearby gardens and the presence of a storage pit similar to those found in the North Island would suggest that kumara cultivation took place at Pā Bay. Evidence in middens excavated on the site show that the sea was a source of food for those living in the pā.
A nearby seal colony could also have provided food if it was occupied during these times. The surrounding hills were covered with dense forests and would also have provided both food (native birds and berries) and timber for palisades, dwellings and canoes from the tōtara and matai trees growing there.
Industry
Excavations conducted by Murray Thacker between 1955 and 1960 revealed that this was a greenstone (pounamu) working site. Like other sites (Kaiapoi Pā) grinders, sharpeners and greenstone chips were found as evidence of the extent of the activity taking place there. Artefacts found at the site included tools such as small greenstone chisels, gouges and adzes and a range of ornaments: hei tiki (stylised human figure), hei matau (fishhook), pendants and cloak pins.
The presence of greenstone tools indicates that this was also a place for wood carving. A rare find in the excavations (because wood rots quickly) was a fragment of carved wood believed to be part of a waka huia (carved ornament box). Waka huia were used to store prized possessions such as feathers and hei tiki in the rafters of the whare (house). Other wooden artefacts such as palisades from the pā show that they were carved. Paua eyes used to decorate carvings were also found.
Te Puke ki Waitaha — Pā Island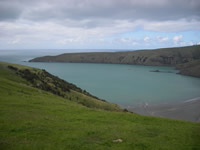 The 1.2 hectares of land that makes up Te Puke ki Waitaha have been well utilised to form this defensive fortress rising 40 metres above the sea. The island features steep cliffs and slopes which form natural barriers so a palisade line was only necessary on the lower slopes.
Access to the pā was gained on the landward side of Pā Island from a flax (harakeke) rope ladder used to scale the cliffs. Remnants of this rope were found there as late as the 1880s when it was finally removed by a local farmer to safeguard his children.
The top area of Pā Island had been terraced so it was possible that 14 dwellings could have been erected there for habitation. However, there is not enough evidence to determine how long this site might have been occupied. The presence of the rope ladder suggests that this might be one of the last occupied sites on the peninsula. If so, it is likely to have been occupied during the 1820 —1830 period.
Okains Bay today
Murray Thacker
Growing up in Okains Bay Murray Thacker is a descendent of several Okains Bay early settlers including John Edward Thacker, George Mason, Thomas Ware and Barney Harris.
From an early age Murray excavated at the Pā Bay and Pā Island settlements and collected Māori artefacts that were then housed in his own home.
When the Okains Bay cheese factory closed in 1968 it was purchased by Murray Thacker and work begun to convert it to the thriving museum complex we see today.
Okains Bay Māori and Colonial Museum
In 1977 at the Waitangi Day celebrations, Murray Thacker signed over the collection to a newly established trust that had been set up to administer the museum.
This day of celebration has become an annual event at Okains Bay with the museum complex playing host to large numbers who gather there to celebrate New Zealand's national day. A range of activities from bread making in an outdoor oven to paddling the war canoe on the local river are available for people to experience New Zealand's past.
Today, the Okains Bay Māori and Colonial Museum complex has preserved beautiful examples of Māori and early colonial life creating a fascinating record of New Zealand's past. The museum itself houses an outstanding collection of rare Maori artefacts. These include a sacred God stick dating from 1400, a war canoe (waka) from 1867 and a hei tiki (pounamu figure) that was purchased by the owner and returned to New Zealand. When combined with the colonial artefacts the museum now has a collection of over 20,000 items.
Outside, a small village environment has been created where one can glimpse how the early pioneers lived. Relocated cottages, stables, a print shop and a saddlery have been erected around the central grassed courtyard. A working smithy and an outside oven provide visitors with practical demonstrations of how things were done in colonial times.
As you enter the grassed courtyard you are struck by the meeting house carved by Master carver John Rua. This Wharenui (meeting house) has been constructed in a traditional way observing all traditions and tapu requirements, and is a magnificent example of this ornate feature of Māori life. Across the road from the museum is a shelter built to house the two waka used at the celebrations held every Waitangi Day.
Recent acquisitions for the museum are the Akaroa Grandstand, which has been reconstructed on site, and a number of boats (whalers and rowing quads) currently being conserved and restored. The museum continues to grow, playing a valuable role in preserving our history for generations to come.
In February 2009 Murray Thacker, owner of the historic Okains Bay Store, gifted it to the museum to help preserve this piece of local history and ensure that it can continue to serve locals and tourists visiting Okains Bay.
Images of Okains Bay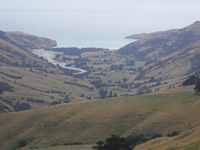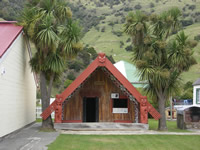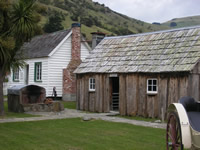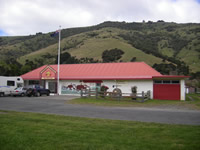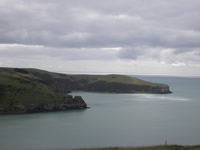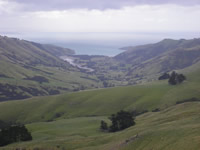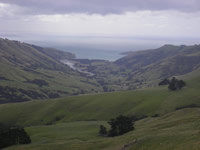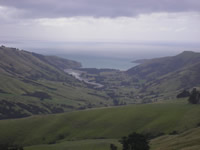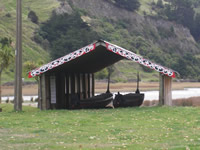 Sources
Gordon Ogilvie, Banks Peninsula – Cradle of Canterbury, Government Printer, 3rd edition, 1997
Barry Brailsford, The Tattooed Land, Stoneprint Press, 2nd edition, 1997
Okains Bay Museum. Okains Bay Māori and Colonial Museum Banks Peninsula, Canterbury, Okains Bay The Museum, 1984