Motukārara (Island of Lizards) sits close to the Akaroa road. This mound of higher ground or island (motu) was once surrounded by swamp and takes its name from a kārara (lizard).
Lizards feature largely in Māori folklore. However actual reports of them are not easy to substantiate and are confined to second-hand accounts.
The Reverend J. W. Stack in 1874 records the existence of a 450mm nun lizard in the Waimakariri River area. This lizard is believed to have disappeared with the introduction of mammals such as the rat. The prophet Te Maiharoa travelling over the Waipuna hill trail between Wairewa and Koukourarata is reported to have killed a kārara and removed the tapu of that spot.
It is believed that the kārara featured in this placename was a species of giant gecko now extinct.
Today Motukārara is more commonly known for the annual race meeting held there and the Motukārara Conservation Nursery and Resource Centre established to grow plants exclusively from Canterbury.
Images of Motukārara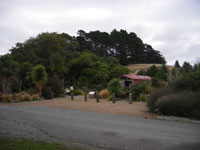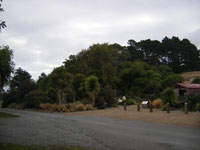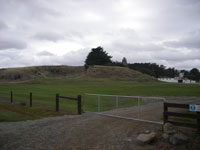 Sources
Art. XLIV. — On the Disappearance of the larger Kinds of Lizard from North Canterbury. Read before the Philosophical Institute of Canterbury, 7th May, 1874 by the Rev. J. W. Stack. Transactions and Proceedings of the Royal Society of New Zealand 1868-1961
Motukarara Nursery — Department of Conservation
Haami Bradford. Ngārara – reptiles, Te Ara - the Encyclopedia of New Zealand, upated 1 March 2009
Kawekaweau - The Giant New Zealand Gecko — New Zealand Cryptozoologist
Gordon Ogilvie, Banks Peninsula – Cradle of Canterbury, Government Printer, 2007
Aaron Bauer and Anthony Russell, Hoplodactylus Delcourti and the Kawekaweau of Māori Folklore, Journal of Ethnobiology — Summer 1987
Buddy Mikaere, Te Maiharoa and the Promised Land, Reed Books, 1988