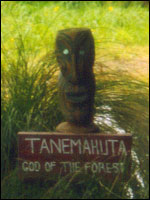 Ōtūkaikino, now protected as a wetland reserve, was designated by local Māori as a traditional wai tapu (water burial) site. As such it was specifically set aside for funeral purposes, with the water, flora and mud used by the tohunga (priest) for embalming.
Today there has been significant planting in the reserve and a boardwalk has been built to guide visitors through the wetland areas.
Ōtūkaikino sits nestled between Highway 1 heading north out of Ōtautahi and a sweeping access road. This setting is in stark contrast to the site's historical past and spiritual significance.
Sources