The old Māori name for Tikao Bay is Ōkoropeke. Ōkoropeke literally means "to be doubled up". The bay was named to commemorate the death of an elderly chieftainness who died from the cold.
Hone Tikao lived at Tikao Bay and it is from him that the bay takes its more common name.
The history of Tikao Bay
In 1856 Tikao Bay was included in a reserve of 175 hectares known as Ōpukutahi or the Wainui reserve when the purchase of Banks Peninsula from Ngāi Tahu was completed. Only a small part of this reserve land (40.5 hectares) remains in Ngāi Tahu hands today.
An armament depot was built during World War II in the bay, on Māori reserve land. It remains as a grim reminder of dangerous times.
Tikao Bay today
Today, Tikao Bay is a popular holiday spot and has a number of baches. A sewage scheme was put in place to protect the bay from being polluted and ensure it remains a safe place for swimming.
Images of Tikao Bay (Ōkoropeke)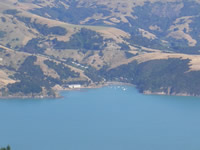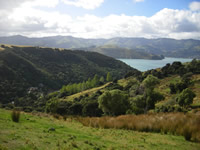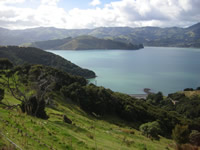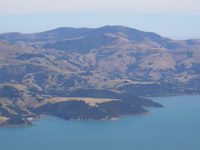 Sources