Location: 195 Grahams Road (between Cranbrook Avenue and Gregan Street - backs onto Kendal School), Burnside, Christchurch 8053
Brief History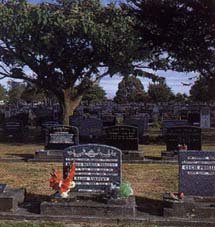 In 1909 the Waimairi County Council granted the request of the vestry of St Barnabas Anglican Church in Fendalton Road for land to be set aside for a cemetery. The Papanui Public Cemetery on Grahams Road was opened in 1911, Fulbert Astley Archer (1860-1911), of 46 Memorial Avenue, being the first to be buried there.
From September 1916-July 1917 it was referred to in The Press as the Fendalton Cemetery. In July 1917 its name was changed to the Waimairi Public Cemetery. Confusion had arisen because of the similarity of the names of the Papanui Cemetery, at St Paul's Anglican Church, and the Papanui Public Cemetery, on Grahams Road.
The cemetery comprises three main areas: the oldest part with larger monuments with concrete grave surrounds typical of that period; the second with more standard upright headstones on concrete beams; and the third, uniform reclining memorials on beams.
Waimairi is now only available for burials in pre-purchased plots, second interments and ashes. A special ashes area has been added on the Grahams Road frontage.
Sources
Related