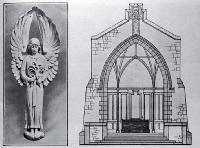 The Shrine to commemorate the sacrifice of High School old boys in World War One (1914-1918) was unveiled and dedicated 31 January 1926 by the former headmaster Charles Edmund Bevan-Brown (1854-1926) on the school's playing fields. It had been suggested as early as 1917.
It consists of an arch of grey stone. Under the vaulted roof is a granite sarcophagus and embedded in the rear wall are panels listing the names of the 142 old boys who lost their lives. The angel at the top bears the school arms, an emblem of resurrection and victory. The cross commemorates sacrifice.
The Shrine was the idea of Maurice John Guthrie (1891?-1968), an architect and also an old boy. Construction was by a monumental mason, Henry Silvester (1876?-1938). It was paid for by old boys.
It was planned that an avenue of cypress trees, donated by James Deans, was to be planted nearby.
Source
'War Shrine', The Press, 1 February 1926, p 8
'Gothic Shrine: High School memorial', The Press, 14 January 1926, p 4