Brief History of Woolston/Heathcote Cemetery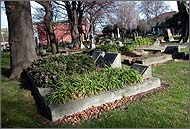 On 18 January 1864 the vestry of the large Heathcote Parish decided 'to procure some suitable and convenient site for a cemetery'. In July 1866 land was purchased at the corner of Princes (later Rutherford) Street and Garlands Road. The graveyard was originally called the Lower Heathcote Cemetery because, when it was established, this section of the parish was called Lower Heathcote.
In 1870 Joseph Harrop Hopkins was responsible for the area about Ferry Road being renamed 'Woolston' and the cemetery was popularly styled the Heathcote and Woolston Cemetery. Although the cemetery was long associated with St. John's church, Woolston, which held the cemetery plan, the owners were the Church Property Trustees. Eventually the Heathcote parish was subdivided into smaller more manageable units. People interred in the cemetery had often dwelt in the Heathcote, Opawa and Woolston parishes.
The first burial was that of the 23 year old daughter of Thomas and Jane Christian Cholmondeley, a member of an ancient aristocratic English family, who died at her home, Vale Royal, Port Levy, on 15 July 1866.
In 1888 a chapel was erected in the cemetery. With the eventual filling up of the burial ground, the building fell into disrepair. In 1949 the Church Property Trustees gave it to the North Canterbury Hospital Board which moved it to the Jubilee Home, renamed it St. Luke's chapel and enhanced the appearance of the interior. When the home was closed in 1990, the chapel was moved to the Anglican City Mission property in Hereford Street. A large flower bed in the centre of the graveyard marks the original site of the chapel.
In 1982 the Church Property Trustees negotiated with the Christchurch City Council so that ownership of 'Woolston's old Rutherford Street Cemetery' might be transferred to the council. The council was not to be responsible for the 'maintenance, repair or replacement of headstones or their surroundings'. The trust fund of 11, 800 dollars, which the council received along with title to the land was to be 'used only for maintenance and improvements to the cemetery'.
The cemetery was taken over by the Council in 1983. It is dominated by the larger old style memorials, many of which mark the graves of prominent people from the Woolston area. This cemetery is full and is now being developed as an historic park.
Sources
Related