Avonhead was one of the first houses built in Christchurch after the arrival of the First Four Ships in 1850. Its first owner was William Bayley Bray. Later owners were Joseph Hill, Betham Edwards and George Witty. A second house, also called Avonhead, was built at 93 Avonhead Road in 1912 — the original house was demolished in 1944.
This page details the history of the site and the buildings on it, as well as brief information about the various owners.
William Bayley Bray (1812-1885)
Bray, an engineer, arrived in Canterbury on June 6, 1851 on the Duke of Bronte with his wife and their four children.
He purchased 500 acres (just over 202 hectares), Rural Sections 177, 178 and 179. It is here that the many springs which feed the Avon River are located, so Bray named his property Avonhead Farm.
Avonhead homestead
Bray built a pug clay house on the site of what is now Archdall Place. It resembled an English cottage with its leaded windows and roof thatched with rye grass but was modelled on the lines of the bow of a boat with walls 18 inches (45 cm) thick. The house was of two storeys with 16 rooms, six chimneys and five staircases. Rooms were arranged in a long strip which faced the sun. Behind these rooms a shingled-floored corridor ran the full length of the house. There were secret hideaways and peep-holes.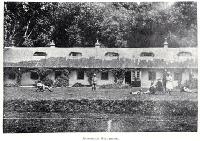 Entry to the house was via a square panelled hall. The dining room panelling was made of local totara, fine oak panelling imported from England having been lost on the Sumner bar. A section of panelling could be slid back, revealing the narrow staircases leading to the attic bedrooms.
Although the farm could be reached only by bullock dray, Avonhead was a centre of hospitality.
Waimakariri River floods
Bray is best remembered for predicting that the Waimakariri River would break its banks and engulf Christchurch. Local politician and businessman Crosbie Ward (1832-1867) wrote the verses:
At Avonhead lives Mr Bray,
Who every morning used to say,
I should not be much surprised today
If Christchurch city were swept away
By the rushing, crushing, flushing, gushing Waimakariri River
He told his tale and he showed his plan,
How the levels lay and the river ran;
The neighbours thought him a learned man,
But wished him further than Ispahan,
With his wearing, tearing, flaring, scaring Waimakariri River
Nothing happened until February 1868. On the same day when Bray returned from one of his trips to England, the Waimakariri River sent a torrent down the River Avon and flooded Christchurch. In Fendall Town (as it was then known) some buildings collapsed, many sheep were lost and fences and culverts destroyed.
Joseph Hill (1814-1903)
Before a trip to England in 1859, Bray moved out of Avonhead to Fifield in Opawa and his business manager, Joseph Hill took over the property. Hill was originally a London hatter. In 1861, his eighth child, James, died at Avonhead aged 3 years, 8 months. In 1862 the property, described as a beautiful estate on the north side of Harewood Road, was offered for sale by private treaty. Presumably the land was split up in the years following, with Hill retaining the homestead and 35 acres. In 1868 a trial of reaping machines was held at Avonhead. Trial ploughing matches were also held there and there was an annual sale of stock. Hill died at the North Belt (Bealey Avenue) in 1903.
Later owners of Avonhead
Other owners in the latter part of the 19th century were brothers Betham Pater Edwards (1863?-1929) and Manvers Burton Edwards (1870?-1921), well-known trotting trainers. A sale of their trotting stock was held at Avonhead in 1896. By 1897 the house was undergoing a much-needed renovation. A half-mile racing track had also been installed and stables had been built.
Ernest Henry Burley (1879?-1925) attempted poultry farming at Avonhead, only to be made bankrupt in 1909.
In 1912 the property was bought by George Witty (1856-1941), Member of Parliament for Riccarton for 23 years. The property was then at 109 Avonhead Road. The Witty family never lived in the old house but they recognised its value as an historic place. It was kept in a reasonable state of repair until the family sold it in 1944.
Demolition of Avonhead
The reason given for the demolition of Avonhead in December 1944 was an infestation of rats — a reason strongly disputed by George Witty's daughter, Mrs Irene Ellis. Many Christchurch residents were unhappy with the decision. Even the mayor, Ernest Andrews, deplored the demolition. The Historic Places Trust, which might have advocated on behalf of the house, was not established until 1955.
The second Avonhead homestead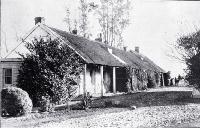 In 1912 George Witty commissioned Roy Lovell-Smith to design a house. It was close to the original building and was also named Avonhead. The site of the Bray house was occupied by horse stalls and, later, a swimming pool and tennis court. At the time of Witty's death in 1941 the property was numbered 69 Avonhead Road.
Further subdivision of the land began almost immediately. Developer Maurice Carter was involved in the 1960s and Archdall Place was formed. This was named after William Hewan Archdall (1920-1990), a prominent identity in the Canterbury stock and station industry who lived at 93 Avonhead Road, from 1964. Carter also uncovered unknown springs at the source of the Avon River. They were a nuisance to property owners and were piped so they can no longer be seen.
Acknowledgment
Mrs Irene Ellis, née Witty, (1902-2000).
Sources
List of chief and fore cabin passengers by the Duke of Bronte, The Lyttelton Times, 21 June 1851, p 3
Deaths, The Lyttelton Times, 6 July 1861, p 9
Advertisements, The Lyttelton Times, 2 April 1862, p 6
Reaping machines, Timaru Herald, 1 February 1868, p 2
Death, Star, 28 May 1885, p 2
In Memoriam, Star, 30 May 1885, p 3
Obituary, The Lyttelton Times, 1 June 1885, p 5
G R Macdonald dictionary of Canterbury biographies: B694, H576
Sporting, Star, 2 September 1896, p 1
A visit to Avonhead, Otago Witness, 7 October 1897, p 34
A new industry, Star, 23 July 1909, p 1
Obituary, The Press, 21 November 1941, p 4d
News of the day, Evening Post, 7 December 1944, p 6
Homestead at Avonhead, The Press, 18 December 1944, p 4
The early Canterbury runs, pp 48, 49
Light and life: the memorial stained glass and some notable graves of St Peter's, Upper Riccarton, Christchurch, New Zealand, p 80
Pillars of harness horsedom, pp 258-264
Discovering the source of the Avon, The Press, 24 April 1976, p 11
The people who cultivated Avonhead, The Press, 1 May 1976, p 12