Having been in hospital recently has given me pause to consider how amazing the nurses are and how dedicated they must be to work at times arduous hours and to deal with tasks which are not always pleasant. And let's face it, at times they observe the deterioration and loss of a patient they may have nursed for a while. That must be hard, yet they are always so cheery and ready to make you as comfortable as they can and almost always with a warm smile.
I work as a library assistant and find it  hard and feel quite sad when we have to put what has been a great book to rest. So I figure in comparison I must be a bit of a wuss.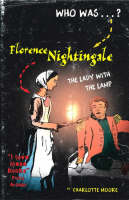 I remember in school being taught about the early days of nursing and the role that Florence Nightingale played in that. Florence is very well known for her contribution in the Crimean War. Don't be fooled though: this "Lady of the Lamp", as she was often referred to, was so much more than a committed nurse, teacher and carer of those injured during wartime. This I only recently discovered when, on my discharge from hospital, I decided to read about Florence, and I am so pleased I did.
Let me share with you a little of what I have discovered. In doing so I hope you will be inspired to check out one of the many books we have about Florence at Christchurch City Libraries and discover for yourselves what an incredibly strong woman she was, very talented and a fantastic role model for all women.
Florence was born in Italy in 1820 and was named after the city in which she was born. Unusually for women of that era Florence was well educated. Her father, who was her tutor, saw her potential and tutored her, amongst other things, in languages, maths and history.
Florence's talents included an understanding of politics, ability in maths and statistics.  She was a prolific writer and could be described as a trailblazer in her endeavours to improve the lot of prostitutes to prevent them gaining a criminal record.  She was also committed to improving health conditions for the people of India.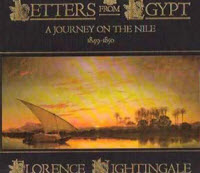 At age 29 Florence travelled to Egypt. As a talented writer she wrote many descriptive letters to her family about her adventures. These letters have been published in Letters from Egypt: A Journey on the Nile 1849-1850, selected and introduced by Anthony Sattin. A wonderful Arabian Nights adventure and beautifully illustrated throughout, this book is an enjoyable read. Florence's description of her travels is captivating: she takes one on the journey with her . This book is just one of several items we have to offer for you to read and gain insight into a very capable  and strong-willed woman. Do enjoy her story.